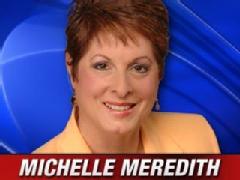 This happened a little more than a week ago, but I still wanted to mention it.
If there is an underrated reporter in Central Florida, I think 's WESH's Michelle Meredith. The woman seems like a bulldog when she gets a  story.
You may remember, it was Meredith with her little video cam that caught former Illinois Gov. Rod Blagojevich vacationing at Disney World while awaiting word on his indictment by a grand jury. This was after nearly every reporter in town was looking for him across the Disney resort.
Last week, Meredith — again with her video camera — was able to grab a quick chat with Vice President Joe Biden. It came in Philadelphia, where Meredith's daughter was competing in a crew competition that also included the veep's granddaughter. And Biden looked just as happy as Blago to see Meredith and her camera.
Did she break news with Biden? No, but it did give us some insight into how he spends his weekends. And honestly, if you are at an event with the vice president, aren't you going to try to get an interview?
Click here to see WESH's story and Meredith's video.
And I'm sure Biden is thinking the interview with Meredith went much better than his last one with an Orlando media member.