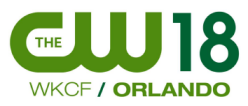 What's the station the CW Network wishes all of its affiliates would be like? Well, just turn on Orlando's WKCF-CW 18 and find out.
The station announced Thursday that it received the APEX Award from The CW for being the network's "Model Affiliate of the Year."
According to the press release, "The Model Affiliate is the highest award given by the CW Television Network for being an overall outstanding local TV station. The award is based on the quality and involvement of all aspects of television operations such as CW18 marketing and station branding, on and off air promotional efforts, sales and advertiser ventures, duopoly integration with sister station WESH 2 and local media partnerships."
The "Model Affiliate" was selected among all the CW affiliates throughout the country and was announced during the CW Upfront Dinner last week.
"What's exciting about winning this award is that it is based on all departments working together as a team to provide a quality product," WESH/WKCF GM Jim Carter said. "To have that total team effort recognized by the CW Network in Los Angeles is a tremendous compliment."