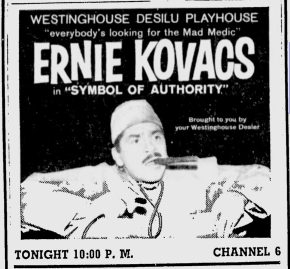 If you think television didn't arrive in Central Florida until 1954 when WDBO-TV Channel 6 went on the air, you'd be mistaken. Back in 1949, Jacksonville's WMBR-TV Channel 4 began broadcasting — and some area homes could receive the station's signal.
But it was the arrival of WDBO-TV that clicked the local telecasting revolution into high gear. Before the end of the 1950s, Orlando had its three main network TV stations. WMFE-Channel 24 added educational TV to the area in March 1965, and Central Florida landed its second(*) independent station in 1974 when WSWB-TV Channel 35 signed on. (* Yes, Channel 35 was our second indy station — WESH-TV Channel 2 began as an independent before landing its NBC affiliation several months after it signed on.)
But wonder what was on Orlando TV in those early years? Here's you chance to find out. We've compiled sample TV schedules from the first 25 years of Orlando TV history. These schedules were compiled from the online archives of the Daytona Beach Morning Journal, the Daytona Beach Sunday News-Journal, the Lakeland Ledger, the Ocala Star Banner.
Click on a year to see what was on Orlando TV…
We also created a gallery of all types of Orlando TV station advertisements — for dramas, sitcoms, news, game shows, etc. Click here to view our 500-plus image gallery of Orlando TV Station ads.
We've also started doing the same thing with TV stations from South Florida — where television started in the Sunshine State in 1949. Click here to see South Florida TV Station ads.