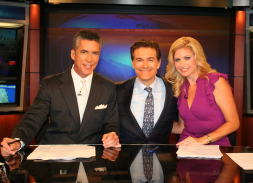 The folks at WESH 2 received a house call from America's favorite doctor last week.
Dr. Mehmet Oz, host of the syndicated Dr. Oz show, was at WESH on Thursday. While visiting the station, he talked about his show, his book and met with some local folks. He even took time to pose for photos in the newsroom and with WESH 2 News anchor Jim Payne and Martha Sugalski.
Hearst's Orlando duopoly double-pumps Dr. Oz each week day, at 9 a.m. on CW 18 and at 3 p.m. on WESH.
Click here to see a slide show from his visit to the Orlando station.