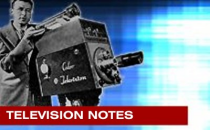 Some quick Orlando TV News updates …
In a move expected by many in the TV industry, WFTV has named Matt Parcell as news director — replacing Orlando TV legend Bob Jordan.  Orlando Sentinel TV Guy Hal Boedeker reported that Parcell started his new role on Monday, after Jordan exited last Friday for his new gig at Seattle's KOMO-CBS 7. Wrote Boedeker:
Parcell, who has been at WFTV since 1997, had been managing editor and Jordan's No. 2.  Parcell said viewers won't see a change in the station's approach. "We are about local news and investigative reporting," Parcell said. "Channel 9 Eyewitness News — it's not Bob Jordan's news. Jordan guided us, but we use research. We take a broader look. It's not top down. It's a group effort."
Meanwhile, former PBS station WMFE-24 finally has a new owner — the University of Central Florida. The Orlando Sentinel reports that the Federal Communications Commission gave approval for UCF to take over the WMFE license as part of a $3.3 million deal. The move will mean "WUCF TV" — the PBS channel that UCF runs with Brevard Community college on WBCC-TV 68, will be moving to Channel 24 — the longtime home of PBS in Central Florida. Read the full story here.