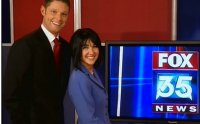 Jacquie Sosa, who was paired with Mark McEwen in one of the earlier (and unsuccessful) attempts to revive WKMG's morning news, will be back on TV in the mornings starting Thursday — the first day of the November sweeps.
Sosa is the newest co-anchor of the Fox 35 Morning News on WOFL. She'll join a team that includes Jim Van Fleet, Heidi Hatch, Tom Johnson and Cris Martinez.
 "I have been blessed with the opportunity to spend the
 last couple of years raising my two young daughters," Sosa said.  "I'm thrilled to now be returning to journalism and working with the team at Fox 35."
Sosa joined Local 6 in 2004 to anchor its morning news with McEwen. Then, McEwen suffered a stroke, and Sosa was then off the air on maternity leave. When she was ready to return in March of 2007, she was told her contact was not being renewed — and she wouldn't be returning to the air either even though her deal ran through most of the year.
 "Jacquie has a proven record of success reporting morning news in central and southern Florida," WOFL GM Stan Knott said.  "This, combined with her great energy and warmth, made her an ideal choice for the FOX 35 morning newscast."
Before Sosa came to Central Florida, she was an anchor and reporter for Post-Newsweek's WPLG in Miami from 1999-2004.  She began her broadcast career in 1998 as a morning show anchor with WTWO in Terre Haute, Indiana.