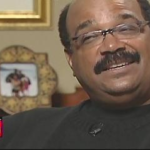 It's been nearly five years since former Local 6 anchor Mark McEwen's life took an unexpected turn. Flying back to Orlando from an out-of-town trip, and after being diagnosed with what a doctor thought was stomach flu, McEwen stuffered a debilitating stroke.
"What I've been through, I wouldn't wish on my worst enemy," McEwen told WKMG.
McEwen returned recently to Dr. P. Phillips Hospital, where he was treated and began his long road to recovery. "This place saved my life, and I'll never forget that," he said.
He's also been spreading the news about stroke prevention and recovery. "If a doctor says something to someone, they might listen but if a person who's been through what you've been through says something, they're all ears, " McEwen said.
According to Local 6, McEwen's motor skills have improved. He also can walk and talk almost as well as his did before the stroke.