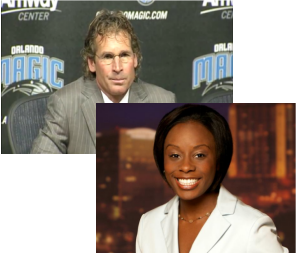 It was a bit bizarre and a little awkward during the Orlando Magic's news conference on Wednesday as Bob Vander Weide announced his retirement as the team's CEO. His sudden departure has rumors flying on the Internet — but it's facts we're after.
Unfortunately, WFTV-Channel 9 news reporter Daralene Jones aggressively questioned Vander Weide about his decision — and quoted a made-up conversation between the Magic exec and Dwight Howard, created by writer Barry Petchesky at Deadspin.com.
"Did you drunk-dial Dwight Howard?" Jones asked. She then interrupted Vander Weide during his answer to ask again, "You called him, but you weren't drunk?" Vander Weide said he had two or three glasses of wine over a three-hour period but wasn't drunk.
Jones then quoted from the Deadspin.com post, asking, "Do you recall saying 'Me and Otis and Stan [Van Gundy], we don't want you to go anywhere. We suck without you. Everyone knows. We've got nothing else. Orlando is a terrible place, and we've got the Amway thing, but who the ["f"] cares?' Do you recall saying any of that?"
Vander Weide said he wouldn't discuss any conversation he had with Howard.
Jones persisted. "The people of Orlando spent a lot of money on this venue and they would probably want to know if you are out there trashing the city." Vander Weide said he's not doing that, he loves Orlando and he will keep a home here.
(Watch raw video of the the exchange for yourself — it starts around the 22:05 mark)
After the odd episode was chronicled by George Diaz of the Orlando Sentinel and blogger Evan Dunlap on Orlando Pinstriped Post, Petchesky responded on Deadspin.com …
So I wrote an imaginary voicemail message from Vander Weide to Howard. I filled it with the "I love you man's" and exaggerated emotions common to every late-night drunk call ever, and threw in some shots at Orlando and the Magic. … At no point did I write that this was fake, but I also never claimed it was an actual conversation. If you have to make clear that something [is] satire, you've failed. Conversely, if people are fooled into thinking it's real, it doesn't necessarily mean you've succeeded. Plenty of people were fooled, both on Twitter and in the comments of my post. And apparently Daralene Jones and Alyssa Newcomb of ABC News, who also ran with the "report" that Vander Weide told Howard the Magic would "suck" without him.
There are so many "major fails" involved in this episode, it's hard to keep track of all of them. But I think you can figure that out on your own.