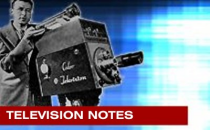 You may have heard about the latest blowup between O-Town stations. This one involved WFTV's video inteview with religious runaway Fathima Rafqa Bary.
Channel 9's exclusive video was posted on YouTube.com — then WESH and WOFL broadcast portions of the clip obtained from the video-sharing Web site. Neither station credited WFTV with the interview.
"You can't steal someone else's work and pass it off as your own," WFTV News Director Bob Jordan told Orlando Sentinel TV Guy Hal Boedeker. "They will make a fair-use claim under the copyright law. But this is pretty transparent theft. They knew it was our work. They could have acknowledged that it was WFTV's work."
It reminded me of the recent Walt Disney World monorail accident. WKMG obtained exclusive video shot minutes after the accident by a tourist, but the video was quickly posted on YouTube. After other TV stations and Web sites aired the video from YouTube, Local 6 ND Steve Hyvonen sent emails to all O-Town media outlets, warning them to respect the station's exclusive or face legal action.
On the Web, aggregation is an accepted form of sharing information. Web sites — like this one — typically summarize information, pull out a couple of paragraphs or quotes for context, then link directly to the source of the material so readers can see the full report on the originating site
This works well on the Web — sending traffic from aggreator sites to the originator sites. But this doesn't work on television — where no station wants to credit its competitors on air.
As Jordan told Boedeker, "There are some things we as journalists should be talking about. The new rules of engagement are being driven by new technology. But fundamental is ownership of original work product."