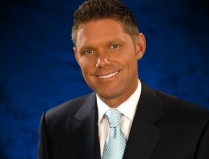 Meteorologist Jim Van Fleet, who has spent a decade forecasting the weather at WOFL-Fox 35, is heading to Tampa's WTSP-CBS 10 to take over its chief meteorologist job.
"Fox 35 did make an offer for me to stay and it was a very generous offer, but quite simply this opportunity with WTSP is something meteorologists spend their entire lives working towards, and to have this door open for me right now is a dream come true and one I would be foolish to pass up," Van Fleet told Sentinel TV Guy Hal Boedeker.
Van Fleet came to WOFL from Texas for Fox 35's chief meteorologist job — but was bumped after a year when former WFTV chief met Glenn Richards became available and joined Fox 35. Van Fleet ended up on the morning shift, where he became one of the area's most popular TV personalities.
But you won't stop seeing Van Fleet on Fox 35 anytime soon. He'll be in O-Town until his current deal runs out in December. According to NewsBlues.com, Van Fleet asked to be released early from his WOFL contract but his request was refused. Why? In Tampa, he'll be competing against Fox O&O WTVT-Fox 13.
NewsBlues also reported that Van Fleet got the new gig after WTSP GM Ken Tonning saw him on TV while visiting Gainesville. After being contacted by the WTSP, Van Fleet — who didn't have an agent — hired Rick Carr, who got the deal done.
WTSP announced Van Fleet's hiring on its website Monday afternoon.