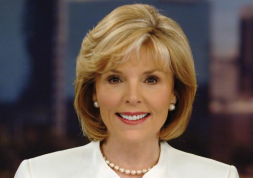 Veteran anchor Barbara West, who has been with WFTV's Eyewitness News for 24 years, is leaving the station.
NewsBlues.com reported today that West will leave the station sometime before Jan. 1. "She's had a great run. We'll miss her,"  News Director Bob Jordan told NewsBlues.
Despite a long career in Orlando in which she was Channel 9's health reporter and anchor for various time slots over the years, she is best remembered — at least from a national perspective — for her satellite interview with Sen. Joe Biden during the 2008 presidential campaign. She asked Biden "How is Senator Obama not being a Marxist if he intends to spread the wealth around?"
Biden's reponse: "Are you joking? Is this a joke? Is that a real question?"
Locally, West is well-known on the charity event circuit.
West, who has been the station's longtime noon and 5:30 p.m. anchor, started to she her role diminish in the past several months. She was taken off the 5:30 news to make way for rising star Vanessa Welch.
NewsBlues said "West will likely use accumulated vacation days, and is expected to sign off soon."