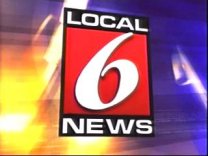 In the summer of surprising changes at WKMG Local 6 continued Tuesday with word that main 6 and 11 p.m. anchor Mike Garofalo has left the station.
This switch "started with Mike's decision," WKMG GM Skip Valet told Sentinel TV Guy Hal Boedeker. Garofalo was married in October to a reporter at Post-Newsweek sister station WPLG-10 in Miami. Apparently the two decided they wanted to live in Miami.
Garofalo arrived at WKMG in December 2008 from KOAT in Albuquerque, where he worked with his now-wife. In Orlando, he'll likely will be best remembered as the man who replaced longtime popular anchor Bob Frier on Channel 6's anchor desk.
Garofalo's replacement — at least for now — will be Erik von Ancken. He has the 6 and 11 p.m. co-anchor slot next to Lauren Rowe on an interim basis and is a candidate to take the job permanently. "I have a lot of confidence in Erik and want to give him a chance to do the job," Valet told Boedeker.
In an odd arrangement, von Ancken was anchoring on Saturday evenings and Garofalo was anchoring Sunday evenings. Now that both are off the weekend shift, who's going to anchor? WKMG said that task falls to Bridgett Williams, who arrives at Local 6 from WAGT, the NBC affiliate in Augusta, Ga.
Garofalo  joins the other high-profile departures from the station in the past several months, including longtime anchor Jacqueline London, morning weather guy Eric Wilson and reporter Donald Forbes.
"I don't think we have any more turnover than the other stations," Valet said. "Ours are coming a little quickly. I'm back to fix our product."