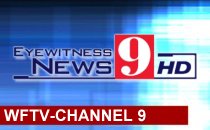 Just as predictable as afternoon thunderstorms in the summer: WFTV and CBS were the big winners in Orlando in the just-completed May sweeps.
The juggernaut that is Channel 9's Eyewitness News showed no signs of weakness. WFTV's newscasts won in all time periods — morning, noon, evening and night.
According to results in the Orlando Sentinel, WFTV's 6 p.m. newscast had more viewers (128,500 homes) than the combined audiences of WESH 2 News (68,300), WKMG's Local 6 News (27,400) and WOFL's Fox 35 News (23,900).  The results were the same in the 25-to-54 demo: WFTV (40,100), WESH (15,700), WKMG (11,300) and WOFL (10,800).
Despite CBS' popular prime-time lineup on WKMG finishing No. 1. locally, WFTV's 11 p.m. news was tops — pulling 42,200 homes in the demo compared with 27,900 for WKMG, 21,200 for WESH and 15,500 for WOFL.
The only dent in WFTV's armor? It's 10 p.m. newscast on sister station WRDQ-TV 27 finished behind WOFL's Fox 35 News at 10. Those 10 p.m. demo numbers: Fox 35 (27,000), WRDQ (16,500) and WESH's news on WKCF (8,700).
As for entertainment shows, Dancing With the Stars was the No. 1 show locally in May — but CBS took five of the top 10 spots. Here's the top 10 from the Sentinel's TV Guy:
Dancing With the Stars, Monday, ABC, 308,100
American Idol, Wednesday, Fox, 287,900
Dancing With the Stars, Tuesday, ABC, 263,100
NCIS, CBS, 258,200
American Idol,"Tuesday, 250,000
NCIS: Los Angeles, CBS, 230,800
Survivor finale, Sunday, CBS, 222,000
Survivor, Thursday, CBS, 219,400
The Mentalist, CBS, 199,300
Desperate Housewives, ABC, 194,400