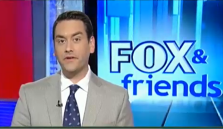 Former Daily Buzz anchor Clayton Morris has moved on to bigger and better things from his Orlando morning show days, now working with Fox News Channel's Fox & Friends show.
But the Fox suits apparently weren't laughing on Friday when Morris played a joke in a video.
During the Fox Flash video segment for FoxNews.com, Morris introduced himself as Fox anchor Steve Doocy. He concluded the video segment — you guessed it — by again identifying himself as Doocy.
Was this a case of just reading what was on the teleprompter and not thinking? Apparently not. TVNewser.com reports, "apparently Morris was not reading from a TelePrompTer but was making a 'hilarious' joke. What a laugh riot."
The HuffingtonPost reported that the Fox suits were not laughing: "A Fox News insider says, 'It was wishful thinking on Morris' part, and executives didn't find it amusing.' "
Maybe Morris will be back in O-Town soon? Check out the video from FoxNews.com below: