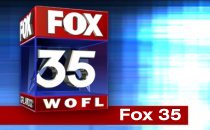 New WOFL ND Jeff Zeller appears to be wasting no time making changes at Fox 35.
A pair of anchors — newcomer Sonni Abatta and veteran Amy Kaufeldt — will be swapping roles. Orlando Sentinel TV Guy Hal Boedeker reports Kaufeldt will become Cale Ramaker's co-anchor on the Fox 35 10 p.m. news as well as continue as the 5 p.m. co-anchor. Abatta will move off the late anchor desk to join the 9 a.m. hour of "Good Day" while continuing to be the 6 p.m. anchor with Ramaker.
The changes are scheduled to begin on Monday.