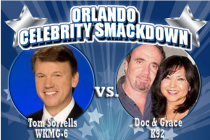 The Orlando Sentinel's fun summer online contest, the Orlando Celebrity Smackdown, has its championship match up.
The winner among all the local television personalities is WKMG chief meteorologist Tom Sorrells. He reached the finals by knocking out fellow Channel 6 weatherman Eric Wilson in opening round, then dispatching Fox 35 morning meteorologist Jim Van Fleet in the second round, upsetting WFTV chief met Tom Terry in the third round, then rallying late to defeat WESH-2 anchors Jim Payne and Martha Sugalski in the semifinals.
Facing Sorrells from the radio side of the contest bracket are Doc and Grace, morning DJs on K92FM. They made it to the finals by upsetting the Monsters of the Morning from Real Radio 104.1.
On Wednesday night, Doc and Grace were leading Sorrells. Voting concludes this week. You can make choice for ruler of O-Town airwaves by clicking here. The winner will be announced on Wednesday, Aug. 19.