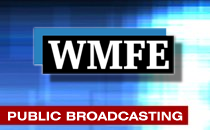 Public broadcaster WMFE is continuing to be hit hard by the economic downturn.
According to the Orlando Sentinel, the local PBS/NPR station group laid off 28 percent of its staff —  15 employees — in its most recent cuts. This follows layoffs in October that cut 10 people from the stations' staff.
Among the high-profile positions gone this time: classical-music radio host Dave Glerum and the six-person staff of TV's "The Arts Connection." Others losing jobs were a radio reporter, two receptionists, a program scheduler and a person each from engineering, membership and finance.
Jose Fajardo, WMFE's president and CEO, told the Sentinel that the station is making the cuts to focus dwindling resources on maintaining key PBS and NPR resources, such as Masterpiece Theather.
"The core product of public broadcasting will still be delivered," Fajardo said. "The cuts were necessary to protect those programs."
Former WKMG morning traffic reporter Secily Wilson, who was part of "The Arts Connection," told the Sentinel: "It's very unfortunate. It marks the end of local TV production" at the station.