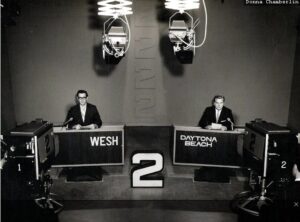 Former WESH 2 pioneer Nick Pfeifauf, 77, died last week after having a heart attack. Pfeifauf was the anchor for WESH news when I first started watching Central Florida television back in the 1970s.
According
to WESH.com,
Pfeifauf worked as news anchor, news director and vice president of research and development at Channel 2 from the 1960s until 1990. His wife, Eloise, said Pfeifauf started as a cameraman.
 "About two months later, someone could not go on the air and since Nick had a shirt and tie on, he was asked to deliver the news," she said. "With his 10 years in radio, he was able to pull it off, and from then on he was on the air.
 "
I believe he was the first anchor of "NewsCenter 2" when WESH first tried to emulate the Star Trek-like set (not the one in the picture) that was pioneered by WNBC, and I believe he was succeeded by Wayne Bennett. More on Pfeifauf here from the Orlando Sentinel.