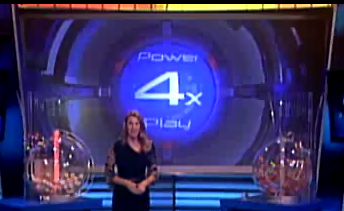 A week ago today, Orlando Sentinel TV Guy Hal Boedeker reported on WKMG's hiring of Elizabeth Hart to become its full-time weekend evening meteorologist.
The following night, she was hosting the multi-state, $25 million  Powerball drawing — which coincidentally also airs on WKMG.
Hart has been among a handful of Orlando folks who host the twice weekly drawings from a studio at the Universal Orlando Resort. No word on if she'll continue her lottery duties now that she's working full time for WKMG.
Hart, who has been working part-time for Local 6 for three years, will also report for the station's 6 p.m. and new 7 p.m. newscasts three days a week.
Taking Hart's role as the weekend morning meteorologist is Julie Broughton, who was previously with Central Florida News 13.
Meanwhile, another newcomer to WKMG will be Jamie Seh. NewsBlues.com reported that Seh, from WTEN-ABC 10 in Albany, N.Y., will join Local 6 as its new weekend sports anchor and reporter. Her last day in Albany is scheduled for Dec. 17.