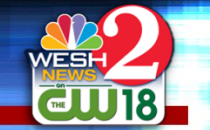 When 2010 turns into 2011, local DirecTV subscribers may have to ring in the new year without a couple of Orlando channels.
Hearst Television, parent of WESH-Channel 2 and WKCF-CW18, is locked in a disagreement with the satellite provider. Retransmission of Hearst station signals is at the heart of the dispute.
"We believe that we and DirecTV can conclude our negotiations before January 1st so as not to deprive any of our respective viewers and customers of our programming," WESH/WKCF GM Jim Carter said in a news release. "However, we want to advise our viewers and customers that the possibility of non-renewal of our current agreement exists."
Similar statements were posted on the websites other Hearst stations.
The signals of WESH and WKCF will only be removed from DirecTV if Hearst and the satellite company fail to reach a deal by Dec. 31. Fortunately, negotiations are still under way.