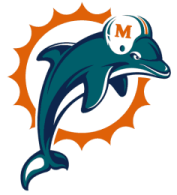 Now you know why WKMG was scrambling to try to get the NFL to let it show the Dolphins' season finale against the New York Jets. Our buddy Jerry Greene reports on his blog that the last quarter of the Dolphins-Jets game — the only part of the game the NFL would allow Local 6 to show in Orlando — was the top-rated show of the week. Not the top-rated game — the top-rated show … the thing that was watched by more people in the Orlando TV market than anything else!
Jerry reports, "It got a 13.6 rating (more than 190,000 households) and a 22 percent share of the sets in use." And he rightly asks, "What kind of numbers would the entire game have produced?"
As any long-suffering Dolphins fan can tell you, the Jacksonville Jaguars claim the Orlando market as part of their territory. And, WKMG is forced to show all Jaguars road games broadcast by CBS and home games that sell out. This wouldn't be so bad if there actually were Jaguars fans in Orlando — or at least in the neighborhood of the number of Dolphins fans.
Perhaps the latest TV numbers will help convince the NFL to remove the Jaguars' claws from O-Town territory … but my guess is don't bet on it.