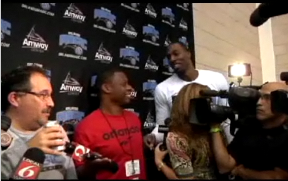 Uh, awkward.
That's perhaps the best way  to describe what happened Thursday at Amway Center when Orlando Magic coach Stan Van Gundy — confirming a report by WKMG sports anchor David "Ping" Pingalore — said Dwight Howard asked the team to fire him. Van Gundy had just finished telling the assembled reporters that management told him Howard wanted him fired, when Howard walked up and put his arm around the coach.
Unaware of what Van Gundy had just told the media, Howard asked, "Is Dave Ping here today, the guy who started this BS?" Van Gundy then excused himself and left Howard to fend off questions. Watch the raw video from OrlandoSentinel.com
Channels 2 and 6 both led off their 6 p.m. newscasts with the less-than-Magic moment. "Ping" wasn't in attendance for Van Gundy's comments, but tweeted that he was eager to see Dwight after Thursday night's Magic-Knicks game — a game the lackluster Orlando team lost by 16 points. Stay tuned — this saga isn't over yet.