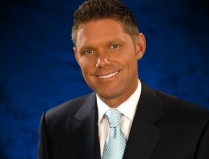 Former WOFL-Fox 35 morning meteorologist Jim Van Fleet is settling into his new role as chief met at Tampa's WTSP-CBS 10. However, he's still a bit unsettled by reaction to an interview he gave — and he wants to set the record straight.
This all began with an early December blog post by St. Petersburg Times TV writer Eric Deggans, who talked to Van Fleet about his new job at WTSP. Here's what Deggans wrote:  "I'm actually here … and allowed to be on air," joked Van Fleet, referring to the contract issues which kept him from appearing on WTSP until his agreement with Orlando Fox station WOFL-TV fully expired. "That was Triple A, and now I'm ready for the majors."
It was that last statement that some inferred as a possible dig at his old station and/or Orlando. Van Fleet says that's not the case.
In an email to us, Van Fleet wrote: "Yes, I was joking about actually being allowed to go on air finally. That was a little frustrating that Fox 35 would not let me just move on and go to the next chapter, but in a way the fact that they held on for as long as they could, and as tightly as they could, I do take that as a compliment."
What about the minor-league comment?
"NO – I did not mean Orlando was Triple A and Tampa was the majors," Van Fleet explained. "What I meant was I felt like since I was going from morning meteorologist back into the chief meteorologist role, well, that was like being 'called up' into the majors. So any misunderstanding … misquote … if I didn't speak it clearly … whatever it is, if anyone took the way I did NOT mean it I just wanted to apologize as that is not what I said … or meant!!"
Van Fleet also said once he heard how his remarks were being interpreted by some, he was upset.
"My heart sank when I read this online because I think anyone who has taken the time to get to know me knows that I don't put people down or make remarks like that," Van Fleet wrote in his email. "So I hope this helps you understand where my intentions where and how I truly feel about Central Florida, and those feelings will never change."
Read our original post about the interview here. (Note: Jim's email arrived on Dec. 29, but I've been swamped and was not able to post until today.)