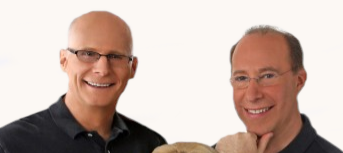 Former longtime WESH 2 News anchors Marc Middleton and Bill Shafer have reason to celebrate this weekend.
"Growing Bolder," the focus of their attention since leaving the world of TV news, has been picked up nationally. This weekend, the 30-minute show begins airing on more than 100 PBS stations, including markets like L.A., San Francisco, Denver and Indianapolis.
"It's a huge piece for us — it's pivotal,"  Middleton, CEO of Bolder Media Group, told the Orlando Business Journal. Now that the show — in its fourth season — will be seen beyond Central Florida, it  can go after national sponsors, pulling in cash to continue to fund this effort at journalism focused on the 50-plus demographic.
Up until this big break, the show has been airing on local PBS station WMFE-Channel 24 as well as Tampa PBS affiliate WEDU-Channel 3. But the Growing Bolder brand isn't restricted to television. There's a radio show that airs on 90.7 WMFE-FM, as well as lots of social media outreach, including a Growing Bolder Facebook page and Twitter feed.
The show even has a new website, GrowingBolderTV.com that explains its mission: "It's the newest show on PBS stations coast-to-coast. It's inspirational, affirmational and entertaining. Produced by an Emmy Award-winning team, Growing Bolder tells the stories of ordinary men and women living extra ordinary lives. It's about people reinventing themselves to pursue their passions and build lives of significance. It's about entrepreneurs, cancer survivors, masters athletes, rock stars, artists, and more."