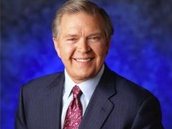 After spending 40 years in broadcasting — a good many of those years here in Central Florida on the radio and on Channel 6 — Mike Burger is calling it quits.
The current weatherman at Dallas' KTVT-CBS 11 has opted out of the final 19 months of a newly signed contact. "I found myself looking in the mirror, saying 'What are you doing?' " Burger told Dallas TV blogger Uncle Barky. "Do you want to do this until you're 70 and then drop over dead? It's time to have some fun."
The recent death of his longtime girlfriend's mother gave him a new perspective on life, Uncle Barky reported. "It persuaded him that life can be short and should be sweeter down the stretch. He also 'knew this was going to be my last contract, whether it was my decision to leave or theirs. So I decided it would be better to go out on my terms, and do it my way, so to speak.' "
Burger, who turns 65 in September, spent a good many years in Orlando — at WDBO radio and Channel 6, when it was WDBO, WCPX and WKMG. He did weather primarily on TV, but after departing for Dallas in 1989, he returned in 1996 to become morning news anchor at Channel 6. He stayed for four years, then headed back to Dallas.
Burger's last weather segment will be  Sept. 4th. He said he plans to remain in North Texas.
Here are some links to see Burger on Orlando TV, plus a special one with him, Glenn Rinker and Ben Aycrigg in the late 1980s at Channel 6. (Sorry for the poor quality of the first two.)
VIDEO: 1983: Carole Nelson at Noon With Mike Burger on WCPX
VIDEO: 1981: WDBO Nightwatch 6 newscast with Wayne Bennett and Mike Burger