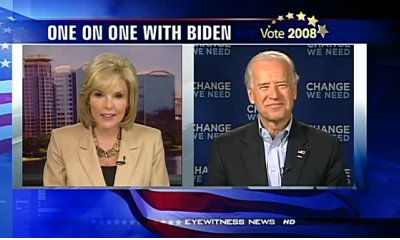 With Vice President Joe Biden due to visit Orlando on Wednesday, Sentinel TV Guy Hal Boedeker revived the discussion about WFTV anchor Barbara West's controversial interview with Biden during the 2008 campaign. Boedeker asked WFTV News Director Bob Jordan if West would cover Biden's visit for Eyewitness News. 
"Just for old time's sake? That's a great idea," Jordan told Boedeker with a laugh. Turning serious, Jordan said, "I saw a brief e-mail that he's coming. I haven't discussed how we'll cover him. We certainly will cover him."
One of the issues that West sparred with Biden in her interview was health care. On Monday night at a town hall meeting by Rep. Alan Grayson to discuss President Obama's hot-button health care plan, West's husband was on hand. According to Orlando Sentinel columnist Scott Maxwell, who was live blogging from the event: "Wade West, husband of WFTV anchor Barbara West, just stormed out, yelling 'Shame on all of us!' at the entire room.  West was reacting to Grayson saying he wasn't going to be able to take questions from everyone – and complaining about the number of Democrats front-ended loaded into the forum."
After the jump, why one local TV web site has closed, plus more notes
O-Town TV pioneer Mike James has shuttered his short-lived OTownTV.com Web site. If you visit now, the site redirects to his NewsBlues.com site. James, former sportscaster at WFTV-Channel 9, asked O-Town anchors and reporters to respond to emailed questions so he could post profiles of area on-air folks. Few responded, and he cited corporate pressure as one reason for the lack of participation.
WKMG-Local 6 chief meteorologist Tom Sorrells finished as the runner-up in the Orlando Sentinel's Celebrity Smackdown contest. Sorrells smoked the TV side of the bracket to move into the finals against radio DJ's Doc and Grace of K92FM. But in this battle, radio was the winner with Doc and Grace garnering more votes from online visitors than Sorrells. The contest will return next year with a larger field.
How bad are things? Last Friday night, WFTV-Channel 9 ran a pair of infomercials in the 8-9 p.m. hour. Network prime time turned over to infomercials? Yikes.