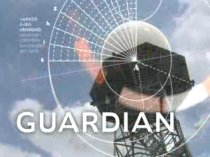 WOFL-Fox 35 is upping the ante in the area's Doppler competition, announcing plans to build a $1.5 million Dual Polarization radar it says will be more powerful than all the other radars in the market combined.
The announcement of the new radar system — dubbed "Guardian" — was made during WOFL's Fox at 5 newscast Wednesday evening. Ground breaking has already taken place for the new Fox 35 radar facility in Christmas, and the system should be operational in about 45 days, Chief Meteorologist Glenn Richards said.
What's different about this Doppler? Find out after the jump
The Dual Polarization technology is what makes Guardian different. Where current Dopplers give an x-ray of severe weather, Richards said, the Dual Polarization is the equivalent of taking a CT scan or MRI of the storm. According to manufacturer Baron Services, "A Dual Polarization radar differs from standard radars by using two different pulses, vertical and horizontal. The radar sends beams in pulses, one in waves that move up and down and another wave that moves side to side, making detection of precipitation much easier and more precise."
Richards said the dual pulses will allow the Fox 35 staff "to see more quickly and more clearly the rotational winds within a developing tornado.
Oh, and the new radar transmits with 1 million watts of power — more than the combined total of radars in Central Florida combined. Greater wattage, WOLF says, will give it the most powerful radar system in the state and allow it to cut through even the heaviest rain that can diminish the beams of lower-powered radars.
Fox-owned sister station KRIV in Houston was among the first in the nation to deploy the Dual Polarization technology, doing so in 2007.
Click here to see a video about Guardian Dual-Polarization Radar.
Click here to read more about the Dual-Polarization technology.