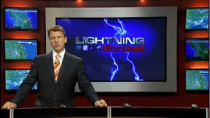 WKMG is living up to its "Local" 6 moniker Wednesday night, taking an hour of prime time to focus on something that impacts Central Floridians nearly every day: Lightning.
"Lightning Strikes," which airs at 8 p.m., is a program that looks how we cope with living in one of the world's lightning hot spots.
"We do stories about victims, survivors, myth vs. truths, explain how lightning starts, how best to avoid it and how to protect your home and your family," WKMG chief meteorologist Tom Sorrells explained via e-mail. "The first story out of the gate is a tragic piece out of Titusville. I covered the story, and I've seen the finished product. I feel it may be the most important story I've ever done."
More from Sorrells after the jump … 
Sorrells points out that while hurricanes and tornadoes grab all the headlines, the No. 1 weather killer in Central Florida is lightning.
"The problem is we deal with lightning every day, and it usually only takes one victim at a time. For that reason it doesn't always get the respect it deserves," he said. "We have all seen kids, families, workers, etc. out in a storm when they should be taking cover. It's my pet peeve.
"I've been wanting to do this special for years, and now it's happening."
Lightning Strikes was originally scheduled to air last Wednesday, but it got bumped by President Obama's news conference. Click here to see a preview of the weather special.