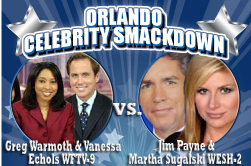 The WESH duo of Jim Payne and Martha Sugalski dispatched WKMG's main anchors to move into the third round of OrlandoSentinel.com's Celebrity Smackdown game. Also advancing to face the Channel 2 Cinderellas — the anchors of WFTV's top-rated Daybreak show, Greg Warmoth and Vanessa Echols. Earlier, Payne and Sugalski upset WFTV evening anchors Bob Opsahl and Martie Salt.
More on the other big O-Town TV matchup after the jump …
 The other big Orlando TV battle is between the matchup is a battle of the Toms — chief meteorologist Tom Terry of WFTV vs. chief met Tom Sorrells of WKMG.
On the radio side of the bracket, Ellis Feaster and Tyler McKenzie of Z88 take on the Monsters of 104.1, and Doc and Grace of K92 tackle Johnny and Jayde of 106.7.
Voting in this round continues until Sunday. Nearly 30,000 votes were cast in the second round.
To cast your vote or to just check on the totals, click here.