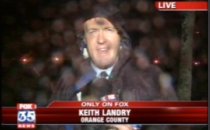 If you live in Central Florida, chances are you've been caught in an unexpected thunderstorm. You know what it's like — the weather is fine one minute, and the next it's time to start building an ark.
That's situation a couple of reporters for Central Florida's self-proclaimed "Weather Authority" experienced on Monday night. Just before their live shots on Fox 35's 10 p.m. news, the sky opened.
WOFL reporter Tracy Jacim was fortunate enough to grab an umbrella just before she went on air, fumbling with it in the downpour while giving an intro to her report about Chinese drywall in area homes. She wrapped up with her umbrella shielding her from the rain.
Less than a minute later, reporter Keith Landry wasn't as lucky. As he was waiting for his cue in another location, he got drenched — and I mean drenched. You can even see lightning in the background above him as he did his intro. When he came back for his wrap, he had on a rain coat but it was too little, too late. "Reporting live in Orange County, getting absolutely soaked, Keith Landry, Fox 35 News at 10," he laughed as he wrapped up. Hey, what can you do in a situation like that?
Typical for Central Florida, the Doppler was virtually clear except for this one rogue shower that managed to pinpoint these two reporters. And to think we're not even in the thick of hurricane season yet.
Click below to see the video (and check out our new share tools below if you want to share this video with a friend)