Information and history about WRDQ-Channel 27, an independent TV station in Orlando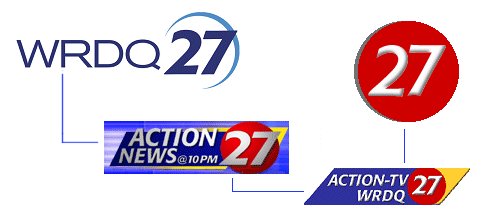 Owner: Cox (duopoly with WFTV-Channel 9)
News: Eyewitness News This Morning (weekdays 7-9 a.m.), Eyewitness News at 10 (Mon.-Sun., 10 p.m.) — both produced by WFTV.  Also, the Orlando-based and nationally syndicated morning show, The Daily Buzz, is broadcast on WRDQ from 6-7 a.m. and from 10-11 a.m.
Previous News: Action News at 10 (produced by duopoly sister station WFTV)
Etc: This independent station was originally branded as "Action TV 27, Central Florida's Action Station." The WFTV-produced nightly news was originally called "Action News at 10." WFTV experimented with a 7 p.m. newscast on WRDQ (the first in the market since WESH's NewsCenter at 7 in the early '80s) during the opening days of the Iraq War. Just like the earlier attempt to start a 7 p.m. show, this newcast was soon pulled. … Like the Eyewitness News shows on WFTV, the Channel 9-produced news on WRDQ is presented in high definition.
Station History: Orlando's 15th full-power station, WRDQ, signed on the air April 23, 2000. WRDQ was licenced to Reece Associates Limited when it went on the air. Marsha Reece was a longtime morning news anchor at WFTV before leaving in the late '80s to try to start a TV station with husband. She signed a management agreement with WFTV to run WRDQ — an agreement that included a provision that would allow Cox to buy the station if the government ever approved of one company owning two TV stations in the same market. Much to Reese's surprise, the government did change the rules to allow such duopolies, and she was forced to sell her station to Cox.
Digital subchannel programming: Airs RTN — Retro Television Network — programming on its 27.2 digital subchannel.
WRDQ HISTORY IN VIDEO