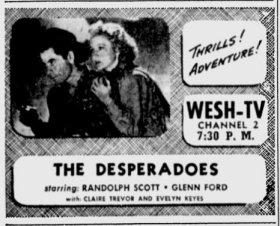 WESH-Channel 2 wasn't always proud as a peacock. In fact, when the station went on the air at 5 p.m. on June 11, 1956, NBC shows weren't even an option. Daytona Beach-based Channel 2 started with a small tower, low power and a signal that barely reached outside of Volusia County.
Fortunately, the station was able to survive its first year as an independent, move its transmitter to a taller tower and increase its signal strength — all actions that led to gaining affiliation with NBC on Oct. 27, 1957. A connection to the network's coaxial cable allowed live NBC shows such as "Today" to appear on WESH on Dec. 30, 1957. And the rest is history, as they say.
But … interesting how events might have been different. In the 1955 issue of the Broadcasting Yearbook, an ad was placed announcing the upcoming debut of "WMFJ-Channel 2" — the planned sister station of Daytona Beach ABC radio affiliate WMFJ-AM. If not for a last-minute change in ownership, there might not have been a WESH-TV, and Orlando's ABC affiliate might be on a different channel.