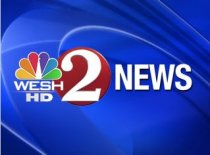 WFTV-Channel 9's Eyewitness News has been so dominate for so long, it's news whenever it doesn't finish No. 1 in a time period.
And that happened, sorta. During October, WESH 2's Sunrise morning news — which is simulcast on sister station WKCF-CW18 — had more combined viewers in the 25-54 demo than WFTV's Eyewitness News Daybreak. According to the Orlando Sentinel, the WESH-WKCF combo had 32,100 households from 6 to 7 a.m. while WFTV had 31,800.
If you break it down, WESH had 26,700 homes and WKCF had 5,400 — so head-to-head, WFTV still comes out on top. But that may be it when it comes to good news for WFTV.
Almost all of the  area newscasts lost viewers in the demo year-over-year, but Channel 9  saw the most significant drop.
At 6 p.m., WFTV lost 13,400 viewers from 2009. At 5 p.m., it lost 14,900 from last year — while WESH actually grew by 5,000.
WFTV still dominates in all news periods when counting total viewers. Still, the question has to be asked:  Could the October numbers  protend a change in the longtime viewing patterns of Central Florida news watchers? Perhaps we'll see when all the numbers are counted after  the November sweep, which began last week.