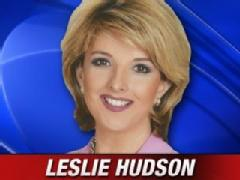 A familiar face to Orlando TV news viewers will be reappearing shortly on Fox 35. It's meteorologist Leslie Hudson, who previously reported on the weather at Central Florida News 13 and at WESH-2.
"I've told a few friends this, now I am telling the rest of my friends! …  I will be working at Fox 35 as their freelance meteorologist in December," Hudson posted on her Facebook page Tuesday. "It's very part time, but I am very excited."
WOFL needs the additional weather help with the upcoming departure of morning meteorologist Jim Van Fleet, who is scheduled to leave in early December for his new job as chief meteorologist at Tampa CBS affiliate WTSP-10.
Hudson, who was with WESH during 2004's historic hurricane season, added, "Can't wait to track the radar again!"