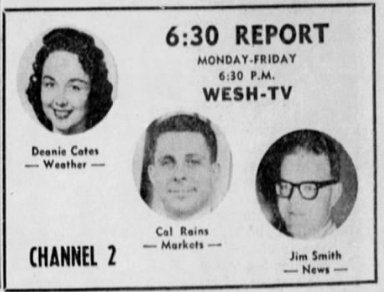 Is Jim Smith a trailblazer or just a footnote for Orlando TV history? We don't yet know for sure.
The WESH-Channel 2 journalist holds the distinction of being the first new anchor to be featured in an advertisement for an Orlando TV newscast. Based on several months of research involving thousands of pages and more than 50 years of online archives of the Daytona Beach Morning Journal, the Daytona Beach Sunday News-Journal, the Lakeland Ledger, the Ocala Star Banner, Orlando Sentinel and Broadcasting Yearbooks from the AmericanRadioHistory.com website, we've compiled this gallery of advertisements for Orlando TV news. Despite our hours of work and extensive effort, we are sure it's an incomplete record.
Still, we have been able to compile more than 150 images from the available online resources to document some of the history of Orlando TV news from 1954 to 1989. And, at least for the time being, Rains kicks off our chronological trip through Orlando TV news history.
Smith appears in several 1957s ad for WESH promoting its news. Now remember, 1957 was just one year after Channel 2 went on the air — and just three after TV began in Orlando on WDBO-Channel 6.
We hope you will enjoy this trip down memory lane, and we'll let you know when we have new items to add to this gallery. To view larger versions of the images below, just click on them. To view them in a slideshow gallery, just click on the link above the images.
We also created a gallery of all types of Orlando TV station advertisements — for dramas, sitcoms, news, game shows, etc. Click here to view our 500-plus image gallery of Orlando TV Station ads.
We've also started doing the same thing with TV stations from South Florida — where television started in the Sunshine State in 1949. Click here to see South Florida TV Station ads.