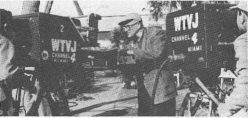 Television in Florida started in an old theater in Miami. On March 21, 1949, WTVJ-Channel 4 began "telecasting" as the first TV station in the Sunshine State — and just the 16th in the nation. Three of the next six stations in the state would also call South Florida home. Here's a trip through more than 50 years of TV promotions for some early South Florida stations. You can view this gallery as a slideshow or click on the images themselves for larger views. Thanks to Google's Newspaper Archive, AmericanRadioHistory.com, and the Miami Archives blog for helping provide material for this page. Stations included below:
WTHS (Channel 2 – Miami)
WTVJ (Channel 4 – Miami)
WJNO (Channel 5 – West Palm Beach)
WCIX (Channel 6 – Miami)
WCKT (Channel 7 – Miami)
WPST, WLBW and WPLG (Channel 10 – Miami)
WEAT (Channel 12 – West Palm Beach)
WITV (Channel 17 – Miami)
WIRK (Channel 21 – West Palm Beach)
WFTL, WGBS and WAJA (Channel 23 – Miami)
To view our gallery of Orlando TV station ads, click here.
To view just the ads for Orlando TV newscasts, click here.