Information and history for Central Florida News 13, the 24-hour cable news station for Orlando.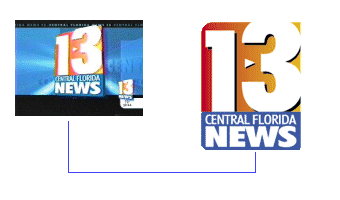 Owner: Bright House Networks
Slogan: "All Local, All the Time"
News: 24-hour cable news channel
Etc: Used to share content with the Orlando Sentinel (which owned 50 percent of the channel from its start until 2003), with the Sentinel offering its reporters or editors for on-air talkbacks or interviews for exclusive and/or breaking news. Even after the Sentinel sold its stake in the channel, News 13 continue to reside in a Sentinel-owned building just across the street from the newspaper's main building. That building wass no stranger to broadcasting. In the late 1980s and early 1990s, it housed AP NewsPlus, a videotext cable news service. But in late 2005, News 13 moved off the Sentinel campus to a new state-of-the-art headquaters in a downtown Orlando highrise. To improve it visibility, the station installed a news "zipper" outside the building as well as a jumbo video screen to show CFN 13 programming to those passing by the building.
Station History: CFN went on the air in the fall of 1997, owned jointly by the Sentinel and Time Warner (which was bought out by Bright House). The Sentinel's TV critic blasted early newscasts as amateurish, boring and plain bad. The station has improved since then. It's a key asset for Bright House since it offers the channel exclusively on its cable systems in Central Florida. It's main newscast seems to be its 11 p.m. show, which offers the longest sportscast in Central Florida.
Digital subchannel programming: Offers a 24-hour weather channel, a Spanish-language version of News 13 and an HD version on Bright House's digital tier.
NEWS 13 HISTORY IN VIDEO