Information and history about WESH-Channel 2, Orlando's NBC affiliate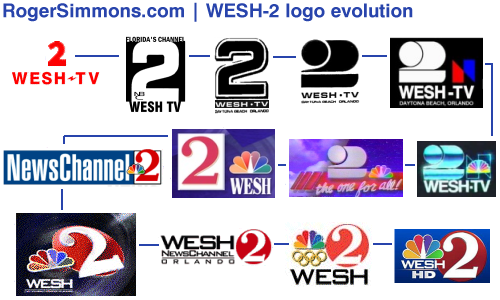 Owner: Hearst Television
Slogan: "Local. Live. Late Breaking."
News: WESH 2 News
Previous News: NewsChannel 2, 2 News, NewsCenter 2, Channel 2 News, The Big News, Newscope.
Etc: Had first hour-long local news in the market starting in September 1963. Canceled the 5:30 half-hour in 1981 when WFTV expanded to an hour, and WESH tried a short-lived NewsCenter at 7 half hour. Restored the hour-long block in 1988. First minicam ENG in the market. Live Super Doppler (first in market). First satellite truck in market. First 4:30 p.m. (then 4 p.m.) news in market – both later canceled. Those original 4 o'clock hour newscasts were paired with an ill-fated but ambitious local magazine show called Discover Orlando.
Station History: WESH-Channel 2 went on the air in 1956 as an NBC affiliate. It was sold to Cowles Communications Inc. in 1965. Other owners included H&C Communications Inc. of Houston and Pulitzer.
Originally based in Daytona Beach, the station is now headquartered in Winter Park along Interstate 4.
Its 1,700-foot transmission analog broadcast tower was located in Orange City, about 30 miles north of Orlando. Its digital tower is located on the local TV "antenna farm" in Bithlo.
Digital subchannel programming: Memorable Entertainment Television — aka MeTV — launched in July 2011 on digital channel 2.2. Previously aired WESH WeatherPlus, part of NBC's Weather Plus sevice.


WESH HISTORY IN PICTURES


(click on any image below to see the complete gallery)
WESH HISTORY IN VIDEO