WDBO-TV Channel 6 went on the air with regular programming on July 1, 1954 as Orlando's first television station. So, on July 1, 2004 — to honor the 50th anniversary of TV's start in Central Florida — we compiled Orlando Television's Golden 50. Here's our list of 50 people whose work made an impact on the region and its viewers during television's first 50 years here.
1. Ben Aycrigg
18. Ellen Macfarlane
35. Ryan Baker
2. Charlie Stump
19. Wendy Chioji
36. Tee Taylor
3. Carole Nelson
20. Dan Billow
37. Henry Maldonado
4. Dave Marsh
21. Ron Kendrick
38. Wayne Bennett
5. Danny Treanor
22. Pat Clarke
39. Steve Rondinaro
6. Walt Sickles
23. Bill Bauman
40. Ed McDonough
7. Bob Opsahl
24. Mike Storms
41. Burd Bullock
8. Marla Weech
25. Nickie Sarner
42. Marc Middleton
9. Bob Jordan
26. Bud Hedinger
43. Rod Luck
10. Don McAllister
27. Scott Harris
44. Martie Salt
11. Frank Vaught
28. Bill Shafer
45. Ken Brown
12. Nancy Stillwell
29. Claire Metz
46. Glenn Richards
13. Walt Windsor
30. Marty Stebbins
47. Tom Terry
14. John E. Evans
31. Tony Pipitone
48. Todd Ulrich
15. Charlie Greco
32. Mike Burger
49. Pete Forgione
16. Annetta Wilson
33. Mike James
50. JoAnn Bauer
17. Buddy Pittman
34. Greg Warmoth


Orlando Television's Golden 50 List

1. Ben Aycrigg
He's been called the "Walter Cronkite of Orlando." And for 35 years, that's the way it was. Ben Aycrigg was the face Channel 6 news for many Central Floridians. He reported with authority and knowledge as someone who grew up in the region. After graduating from Winter Park High School in 1944, Aycrigg began work at WDBO-AM as a radio announcer. He went on to attend Rollins College, and after graduation he landed at job at WLOF-Channel 9 as a reporter in 1959. He worked there two years before jumping across town to the more popular WDBO-Channel 6 — the start of a long and distinguished career. He became the station's first reporter for its four-person news department, one which he would head as news director from 1968-76. After anchoring solo most of his career, he began to be paired with co-anchors in 1976, eventually teaming with Annetta Wilson — the area's first African-American anchor. In a period when Channel 6 lacked direction from its owner and was sliding in the ratings, Aycrigg was taken off the anchor desk in 1981. He was given the title of special projects director, but he didn't keep that title long. After Carole Nelson left Channel 6 in the late '80s, he was put back in the anchor seat for the station's noon show, and then its new 5:30 p.m. news. For a short while, he even returned to the 6 p.m. show with Glenn Rinker — and ratings went up! When he retired in 1996 at age 70, he was still anchoring the noon show — paired again with Wilson, who had returned to Channel 6. A thoughtful journalist who worried about the influence of consultants and the lack of local ownership of TV stations, Aycrigg is remembered as a nice guy who was both well-respected and well-liked. Last I heard, he was enjoying retirement in Maitland.
TV Trivia: Aycrigg is an author. Before he retired from Channel 6, he wrote three fiction books — aimed at young people — that dealt with environmental issues and his passion for horses.
2. Charles Stump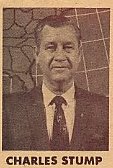 Meteorologist Charles Stump was arguably Orlando's first TV news star. He spent nine years at WESH and six at WFTV before he died of a heart attack in 1975. In the late '60s and early '70s, when no one watched Channel 9, the station used to lead its 6 p.m. newscast with 10 minutes (including two commercial breaks) of Stump's weather. He had this three-sided map that would rotate for local, state and national maps. All the numbers and little sunshines were magnetic. Eventually the magnetism wore off, and if you tapped the board "just so"… everything would fall off. It was great sports to do this to Charlie at 5:59 and listen to him squall. In addition to being an AMS approved meteorologist, he was also WFTV's business manager after serving as personnel and public relations director.
TV Trivia: Stump was the first meteorologist to appear on TV in Florida, starting out at WSUN in Tampa in 1953 after leaving the Air Force. He jumped to WTVT-Channel 13 in Tampa in 1955 to help start that's station's weather service. He then moved to WESH in 1960.
3. Carole Nelson
Just call her the first lady of Central Florida television. That's because she was the first woman to make it to the anchor desk here. But it was an interesting trip. Her first taste of television came as host of a talk show on the old Channel 35, WSWB. I believe it was called Florida Lifestyles, and it often originated from a garden in the middle of the station's doughnut-shaped building. When the station went belly-up, Nelson ended up as a reporter for WDBO-AM. She made national news for demanding to be admitted with other media to the male-only University Club for a news event. Bob Jordan who arrived at WFTV as news director in 1976, hired Nelson to anchor the station's noon news and be his co-anchor at 6 p.m. It turned out to be one of his best decisions. Nelson's noon show with Danny Treanor trounced the competition and helped lead viewers to the 6 p.m. news. She played a big role in last-place WFTV rising to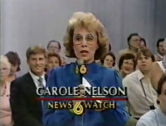 No. 1 in the ratings in 1978. When WFTV added a 5:30 p.m. show in 1981, she co-anchored that with Bob Opsahl. She shocked her colleagues when, in 1982, she decided to move to WCPX-Channel 6. There, they retitled the noon news "Carole Nelson at Noon" and also paired her with Steve Wolford and then Glenn Rinker at 6 p.m. While her presence helped Channel 6's ratings, her new station couldn't overtake her old one. When her contract ran out at WCPX, she decided to open her own consulting business. That didn't last long, as she returned to WFTV to start its 5 p.m. newscast. After departing WFTV, she returned to her radio roots with a brief afternoon show on 740 AM. Nelson is still in Central Florida today, teaching writing at Daytona Beach Community College, occasionally hosting shows on WMFE-FM 90.7 and writing guest commentaries for the Orlando Sentinel.
TV Trivia: When Nelson was at her peak of popularity, there was a morning DJ on WDIZ-FM named Carren Sheldon. One of the urban legends at the time was that Sheldon was Nelson's daughter. Not sure how that started, but it wasn't true. There's another great story about Carole's radio days at WDBO which involves handcuffs. It's on the Central Florida Radio website.
4. Dave Marsh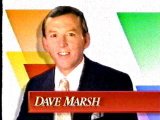 He is Mr. Super Doppler. For more than 35 years, Dave Marsh had been the steady voice of weather reason at WESH. One of my first Orlando TV memories is of Dave standing in front of his black and white "Radar Weather" screen in WESH's Daytona Beach studios in the 1970s. Weather technology has changed a lot since then, and so has Marsh. He was one of the first weathercasters in the nation to use computer graphics for his forecasts. Yeah, they looked pretty primitive, but you've got to love the way he and WESH embraced technology. Marsh and WESH were the first in Central Florida to get their own Doppler system — the huge Super Doppler 2 dish that sits atop the Channel 2 tower along I-4. Beyond the technology, Marsh has earned a reputation as a trusted weather expert. When Danny Treanor at WFTV was easily the most popular weather person on TV in the early '80s, research supposedly showed that viewers clicked off Danny and turned on Dave whenever severe weather approached. When hurricanes threatened Central Florida, Marsh received high marks for not over-hyping the situation and keeping viewers up to date. He retired from WESH in 2006.
TV Trivia: He's a Hatter. After leaving the Navy, Marsh attended Stetson University in DeLand.
5. Danny Treanor
There was no one more popular in Central Florida television in the 1980s than weatherman Danny Treanor. It's the truth — WFTV had actual research to back it up. He joined WFTV in 1978 — part of the crew that Bob Jordan put together that took Channel 9 to the top. At one point, Treanor worked five shows at day — noon, 5, 5:30, 6 and 11. Behind the scenes, the pressures took their toll — Treanor had a drinking problem. He went into rehab and said he emerged sober. He stuck by that claim in 1995 when WFTV abruptly took him off the air. The station wanted to go in another direction, he was told. Out of the TV biz for years, he finally got back on the air a year ago when he began working as a part-time fill-in at Central Florida News 13. Now he's a full-time member of the station's weather staff.
TV Trivia: Danny did a lot of voice work around Central Florida. You can hear his voice in many places, including the automated phone system at West Oaks Mall and on the boats that shuttle hotel guests at Universal Orlando.
6. Walt Sickles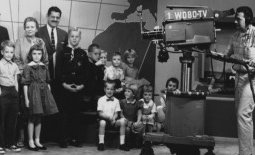 Before Mickey Mouse came to Central Florida, Walt Sickles may have been the most popular character with Orlando's kids. He was the host of Adventures with Uncle Walt, a kids show that started the afternoon WDBO-Channel 6 went on the air on July 1, 1954. Sickles (in the moustache) would chat with youngsters in the studio, show cartoons, and read names of the Clean Plate Club (those children whose parents wrote in to say they were eating all their vegetables), the Birthday List (those who were having a birthday) and even the Get Well List (for kids under the weather). During its 13-year run, it's believed that more than 50,000 Central Florida youngsters appeared on his show. Uncle Walt's last adventure was in February 1967, when Sickles (who also started out as Channel 6's program manager) was fired.
7. Bob Opshal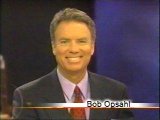 If Ben Aycrigg is the Walter Cronkite of Orlando, then Bob Opsahl is the Tom Brokaw. As part of Central Florida TV's second generation of anchors, Opsahl has been reporting the news for the past 25 years. He joined WFTV in 1978 when Bob Jordan saw him covering a school board meeting on WMFE-Channel 24. The UCF grad joined Channel 9 first as a general assignment reporter, but moved quickly to the anchor desk. He teamed with Carole Nelson on 5:30 p.m. Eyewitness News before moving to the main spot when Bob Jordan left (the first time). In the mid to late 1980s, WFTV brought in Bud Hedinger to replace Opsahl as the main anchor. Opsahl remained with the station, back on the 5:30 news, but within a few years reclaimed his main anchor role. It was then that he was teamed with Marla Weech, creating Central Florida's formidable anchor duo.
TV Trivia: Since 1982, Opsahl has hosted the "Wednesday's Child" segments on WFTV, trying to adoptive homes for special needs children. His work has helped place more than 500 children in new homes.
8. Marla Weech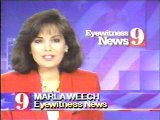 Marla Weech and Bob Opsahl teamed to form one of the most successful anchor duos in the nation. At one point during their paring, I think I remember reading they anchored the highest-rated local newscast in America. Not bad for a hometown duo. Weech, a native Floridian, attended UCF, like Opsahl. She's been on the air in Central Florida for more than 20 years. She was a weekend anchor at WCPX-Channel 6 in the early 1980s before moving over to WFTV as a general assignment reporter, then weekend anchor and finally weeknight anchor. Her co-anchors have included Opsahl, Bud Hedinger and even Barbara West for short time when WFTV experimented with the two women helming the 11 p.m. newscast. Marla is one of those anchors that folks either really love or really love to bash. When Bob Jordan returned in 2002 to halt WFTV's sliding ratings, he needed to make some big changes. Perhaps his toughest decision was moving Weech off the Channel 9 news desk. Because of her popularity, however, she was retained by WFTV to anchor its 10 p.m. news on sister station WRDQ-Channel 27. Since Weech began anchoring only on Channel 27, ratings for that station's newscasts have increased dramatically to the point of making the 10 p.m. competition a real dogfight with Fox O&O WOFL-Channel 35.
9. Bob Jordan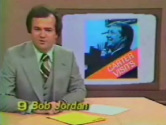 What is it about Orlando TV and Bob Jordan? They just seem to go together. Jordan made a name for himself when he arrived in 1976 at last-place WFTV. The news department was pretty much a joke. Jordan (in the dual role of anchor and news director) beefed up Channel 9's reporting staff, added Carole Nelson, Danny Treanor, Mike James and Bob Opsahl to his anchor desk and pushed WFTV to invest in news gathering equipment. Two years later, the unthinkable happened: Eyewitness News was the No. 1 newscast in Central Florida. He laid a solid foundation that allowed WFTV to grow into a news powerhouse — becoming the most popular early evening news for more than 25 consecutive years. That's a long time — so long, in fact, that during that period Jordan has left twice and returned twice. After leaving WFTV the first time, he came back to the anchor desk and as news director when Nelson left for WCPX in the early '80s. He left WFTV again, running news departments in Seattle, Los Angeles and Tampa. But when his baby, Eyewitness News, was starting to lose momentum, he came to the rescue once more. In April 2002, Jordan began his third go-round as news director. He put an end to the ratings slide and righted Eyewitness News. The station is now No. 1 in five out of seven newscast times — the only exceptions being noon and 11 p.m.
TV Trivia: Jordan graduated from the University of Minnesota and came to WFTV from WKRG-TV in Mobile.
10. Don McAllister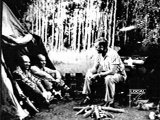 Before the theme parks arrived, a lot of Central Floridians spent their time hunting and fishing. So it's no wonder one of the most popular and longest-running shows on local TV was "Hunting and Fishing" with Don McAllister. Each week, Don and his sidekicks — Tom Benmark and Walter Hudson — would discuss the hot fishing holes and the best places to hunt — for 18 years, from 1964-1972. McAllister started out on WDBO-AM as an announcer and eventually became sports director for WBDO-TV. He founded an advertising agency in 1958, a firm that went on to become known as McAllister-Barker Associates. McAllister died in 1995 at age 70.
11. Frank Vaught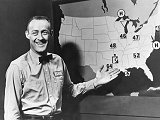 The Atlantic Weatherman? I didn't know what it was either at first. But it was Frank Vaught, who did the weather and sports in the early days of Channel 6. Apparently Atlantic Oil Company (today known as ARCO) sponsored the early Channel 6 weathercasts — which were reported by Vaught, in an Atlantic Oil uniform (like they were wearing down at the "filling station"). I'm not sure how long Vaught's weathercasting duties lasted, but I do know he made the biggest impact as Channel 6's longtime sports anchor. Even when he got out of the TV biz, he was still doing sport reports on radio into the 1980s.
12. Nancy Stillwell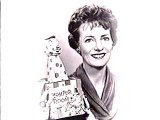 Nancy Who? If you're a longtime Central Floridian, you probably known Nancy Stillwell better as Miss Nancy of Romper Room. She was the area's Romper Room teacher for a number of years during the early days of Channel 6, teaching youngsters right and wrong with help from Do Bee and Don't Bee. She also would look into that magic mirror at the of the show to see kids at home (and unintentionally freak them out). Beyond her Romper Room work, Stillwell was also the first female TV reporter in Central Florida as a part-time member of Channel 6's news staff.
13. Walter Windsor

He came to WFTV in the late 1960's for what he thought would be a temporary stay to help a struggling station. He ended up staying for 15 years and helped Channel 9 become the dominant news station in town. Walter Windsor was the longtime general manager of Channel 9 and was easily recognized by many Central Floridians. Right up until his retirement, Windsor would do on-air editorials with a deep voice explaining the issues of the day.
TV Trivia: Windsor's sons own the Hotties doughnut chain.
14. John E. Evans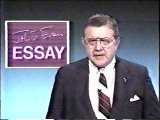 John E. Evans was the longtime manager at WESH-Channel 2 and an on-air personality. In addition to hosting WESH's public affairs program "Florida's Watching," Evans would — like Walt Windsor — give on-air editorials. Evans' were called "Evans Essays." During his 15 years at WESH, he would deliver about three a week. He had a distinctive, nasal voice, but that didn't distract you from his usually important messages.
15. Charlie Greco
We're going way behind the scenes with this selection. Charlie Greco was the first full-time news cameraman for WDBO-Channel 6. Greco started out as a free-lance still photographer who would sell his news photos to the station. They'd put them up on an easel and show them while the anchor read the story. Greco could shoot the news and process the film so fast, he was known as "High Speed Charlie." He was so "high speed," that he often arrived at news scenes before the police arrived (he would hear the calls come in over police scanners and race to the scene). The station eventually hired Greco, hooking him up with a 16mm movie camera then a videotape camera. He apparently impressed a lot of people. When Walter Cronkite came to town for the various space shots at the space center, he always wanted Charlie over there with him.
16. Annetta Wilson
While Carole Nelson broke down one barrier in Central Florida television, Wilson broke another. She was the first African-American anchor, working at WCPX-Channel 6. She was initially teamed with Ben Aycrigg on the news in 1980, then later with Wayne Bennett and Steve Wolford. She left Channel 6, worked for a while at WOFL-Channel 35 anchoring brief news updates during prime-time (before 35 had a news department), then returned to Channel 6 again. She's now at Central Florida News 13.
17. Buddy Pittman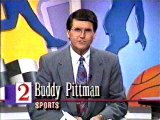 Everybody knows two things about Buddy Pittman. He's the dean of Central Florida sportscasters, and he loves NASCAR. Buddy started at WESH-Channel 2 in 1973, working first in the production department then as a photog before moving to sports in 1976. Almost all of his 30 years in TV has been spent at WESH, with short stints in between in Cincinnati and at WCPX-Channel 6.
18. Ellen MacFarlane
Ellen was WFTV's feisty, in-your-face consumer reporter. The Orlando equivalent of 60 Minutes' Mike Wallace, you didn't want to see Ellen and her camera crew show up at your place of business because you know the outcome was not going to be pretty. After making a name for herself on Eyewitness News, Ellen was lured to WCPX. The problem was she had a non-compete clause in her contact. She appeared on Channel 6 any way and ended up in court. Originally the judge ruled she couldn't work for Channel 6 for a year, but later the ruling was changed allowing her to work at WCPX but not appear on air until the non-compete clause expired. Ellen's TV career was cut short when in 1986 she learned she had multiple sclerosis. She has since written a book about her experience: "Legwork: An Inspiring journey Through a Chronic Illness."
TV Trivia: The unthinkable happened to Ellen in 1991. She was conned by a doctor offering her a miracle cure for her MS. She lost $100,000 but took the doctor to court and won in 1995.
19. Wendy Chioji
We probably know more about Wendy Chioji's personal life than any other Orlando anchor. Chioji started out with WESH some 15 years ago, rising to become weekend anchor and then weeknight anchor. But she really made an impact in May 2001. Following a report on breast cancer, she announced to viewers that she had been diagnosed with the disease. She made her battle against cancer very public, with stories in the newspaper and with an online blog that she kept to keep viewers up to date on her treatment. Her story had a huge impact, especially on those who were battling cancer too or were recovering. Since then she's carried the Olympic torch and ridden with Lance Armstrong in his Tour of Hope cancer awareness event. She left TV and and moved to Utah in 2008.
TV Trivia: Choiji is a fitness nut and has competed in marathons, triathlons and ridden part of several stages of the Tour de France.
20. Dan Billow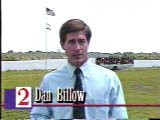 If you have a question about the space program, Dan Billow is your man. He's WESH's space reporter and has been with the station for about 15 years. The high point of his career came this year when he won the prestigious du Pont award for his reporting on the loss of shuttle Columbia. He also earned his meteorology degree.
21. Ron Kendrick
It fair to say there probably won't be too many reporters like Ron Kendrick in Central Florida anymore. He spent 32 years with WESH before leaving the station last Marsh. Born in Daytona Beach, he began working for WESH shortly after graduating from Mainland High. He was an expert on the area where he grew up, and many of his stories focused on events in the Volusia-Flagler county region.
22. Pat Clarke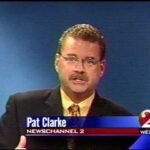 Pat Clarke has been following the Central Florida sports scene for almost 20 years, including 13 spent as sports director at WFTV-Channel 9. After WFTV made the mistake of letting him go, Clarke spent time during a morning sports radio show and an early evening sports show on Sunshine Network. He later found his way back to local TV last year when WESH hired him as sports director. His annual celebrity golf classic has raised nearly $800,000 in 15 years of existence.TV Trivia: Shortly after Clarke was surprisingly dumped by WFTV, he wrote a moving commentary for the Orlando Sentinel about witnessing a man having a heart attack on a golf course. That kind of put things in perspective, Clarke wrote.
23. Bill Bauman

We'll start this one off with a trivia question: Name the only person to be news director at all three of Orlando's main network stations and then become general manager of one of them. The answer is Bill Bauman, of course. Yep, he's led the news departments at 9, 2 and 6 (not sure if that's the right order) and retired as WESH's GM. Having that kind of influence over what Central Floridians have seen on their newscasts over the years earns him a high spot on the Golden 50 list.
24. Mike Storms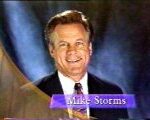 When Mike Storms would report the sports back in the day on WFTV, you wondered if they raised the volume some. He always seemed to be shouting. That was just part of being "Stormy." He made a name for himself as sports director at WFTV, replacing Mike James. When WFTV decided to replace Storms, he ended up across town at Channel 6. He left WCPX to move with his family to California to help his daughter, Kristen, and her acting career.
TV Trivia: He's now back in Orlando, working with AFC Ajax (Amsterdam) soccer club and doing some radio work.
25. Nickie Sarner
She started her 13-year television career at Channel 6 in 1974 as a broadcast pioneer. Nickie Sarner was the first woman — and the first Hispanic — to hold a management job in Orlando TV. As head of the station's community affairs department, she worked closely with Ben Aycrigg and hosted a weekly public affairs show with him called 30 Minutes. At Channel 6, she became a community activist, organizing local relief efforts for earthquake victims in Mexico City. Sarner also helped start the Orlando area's Urban League, the Crimeline program and the Protect-A-Kid child identification program. When she left Channel 6, she went to work for the Orange County Sheriff's Office as media specialist. She retired from that job in 1999.
26. Bud Hedinger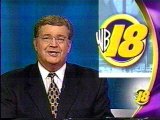 Uncle Bud, as he was affectionately known, came to Central Florida in the 1980s as the main anchor at WFTV. When he left the station several years later, he returned to anchor the news on Channel 6. And he's been here ever since. His claim to fame, however, is his work on the 10 p.m. news on WKCF-Channel 18. First produced by Channel 6 and later Channel 2, it was Orlando's first and most popular 10 p.m. newscast. It was still king of the ratings when Channel 18 decided to replace the newscast with sitcom reruns. Hedinger has since conquered another medium, hosting a popular political talk show on 540 AM.
TV Trivia: He has his own Web site, budhedinger.com. (We like folks who name their websites after themselves.)
27. Scott Harris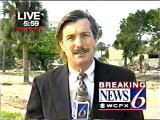 Scott has been reporting the news in Central Florida since the 1970s. He was an anchor and producer at Channel 2, a reporter at Channel 6 and now a veteran anchor for Central Florida News 13. His specialty now is politics and his knowledge of the area comes from his years of work here.
TV Trivia: How much does Scott like politics? He once worked on the campaign of his former WESH co-anchor, Carol Granstrom, when she ran for Congress.
28. Bill Shafer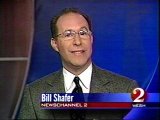 Since starting with WESH in 1981, Shafer has been the unofficial Mr. Good News for Central Florida. Although he's covered many different beats, he made a name for himself with stories that usually focused on the positive, introducing interesting people or places. After another brief stint in the sports chair, he went back to storytelling with his "Positively Central Florida" segments on WESH. He left the station in 2007.
29. Claire Metz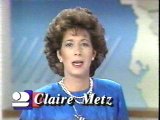 She helped wake up Central Florida for years on WESH. Claire Metz was the co-anchor of NewsChannel 2 Sunrise, which bounced back and forth as the area's top-rated morning newscast. Metz is very familiar to Central Florida viewers, starting with WESH in 1984 after moving over from a reporting gig at Channel 6. After leaving the anchor chair, she remained at WESH as a Volusia County reporter.
30. Marty Stebbins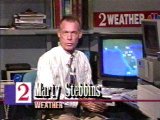 Marty is an old-timer for Orlando TV. He started as a reporter at WDBO-Channel 6 in 1969 and worked there eight years before leaving the market. He returned in the late '80s, this time at WESH and transitioning there from reporter to weekend weather guy. He left WESH briefly then returned to do the weekend morning shifts before finally retiring.
31. Tony Pipitone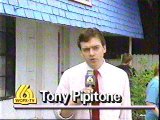 When you think investigative journalism on Orlando TV, Tony Pipitone quickly comes to mind. He's been with Channel 6 since the 1987 and is probably Central Florida TV's most honored reporter. With an increased emphasis on investigations with the Problem Solvers, Pipitone's role at Channel 6 was solidified. Over the years he's been nearly attacked with a taser by the bodyguard of one his story subjects and threatened repeatedly. He and photographer Darran Caudle won the 2004 Edward R. Murrow and SPJ Green Eyeshade award for their reports on a fake law firm.
TV Trivia: There's no knocking newspapers in Pipitone's home — his wife is a print journalist, and he previously worked for the Baltimore Sun.
32. Mike Burger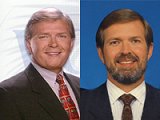 Mike Burger started out doing radio in the 1970s at WDBO-AM when sister station WDBO-TV needed someone to fill in as the weatherman on the weekend shift. So began his television career. From the weekend shift, he made it to the noon show, working with Carole Nelson when she was lured to Channel 6 in the early '80s. He was then promoted to the main weather guy, a position he kept until WCPX brought in Pamela Kister. He left Orlando and went to Dallas to work for a station there, but returned to Channel 6 again — this time as the morning news anchor. He stayed for four years until returning to Dallas.
TV Trivia: Mike worked middays on the old WHOO-990 AM for nine years, eventually becoming program director at the station.
33. Mike James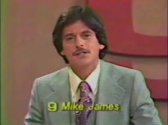 You could call him the first modern sportscaster in Central Florida. When Mike James started reporting sports at Channel 9, folks around here had not seen anything like it. Instead of rip and read, his reports had solid writing, great visuals and commentary. He left Orlando for the lure of NBC but returned to Channel 9 in the mid '70s as part of the anchor team Bob Jordan assembled that took Eyewitness News to No. 1. He surprisingly left Channel 9 at the top of his popularity and has led a very colorful life since. He still watches Orlando TV via satellite from his home near Ocala and reports on the national TV scene via his NewsBlues.com site.
TV Trivia: There's too much here. I could mention the time he bet his life savings — more than $90,000 — on the Kentucky Derby and lost, or the time he was nominated for a Pulitzer Prize by the Orlando Sentinel for a piece he wrote for the paper, or the fact that he grew up in Winter Haven. Instead, how about this: he's a former pro waterskier.
34. Greg Warmoth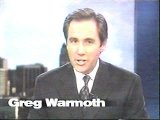 You have to use the word "versatile" when describing Greg Warmoth. He came to Channel 9 in 1986 as a sports reporter, became weekend sports anchor and then host of WQTM's sports-talk morning show. During this period he also became Shaquille O'Neal's buddy — taking him for a ride on a SeaDoo, meeting him at the airport after games, always getting a great quote or scoop from the Big Fella. In 1992, when the ABC affiliates were meeting in Orlando, WFTV asked Warmoth to fill-in as anchor on Eyewitness News Daybreak. That temporary stint hasn't ended yet. For a while, he was doing the morning show and anchoring the 10 p.m. news on sister station WRDQ-Channel 27. Talk about a weird work schedule!
TV Trivia: I can tell you that Greg is one of the few TV guys that the newspaper guys worried could scoop them on a big story.
35. Ryan Baker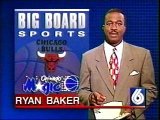 Two words best describe Ryan Baker's career at Channel 6: Sports Jam. His wasn't the first Sunday night sports highlight show in town (that distinction goes to WFTV's old 'Highlight Zone'), but Baker showed everyone else how to do it right. He had the right mix of highlights, interviews and fun stuff. He started out at Channel 6 as the weekend sports guy in 1995. Even after he was promoted to the main sports anchor, he continued doing the Sports Jam show each Sunday night. He left WKMG in August 2003 to return home to Chicago as the No. 2 sports guy on NBC O&O WMAQ.
TV Trivia: During the Orlando Magic's heydays, player Dennis Scott hosted Sports Jam with Baker for a short time.
36. Tee Taylor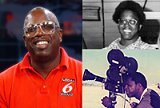 Hey, let's hear it for another camera guy! Tee Taylor has been covering Central Florida for Channel 6 for nearly 35 years. He's popular around town and easily recognized at nearly every sports event he covers. And he's won numerous awards during his time at Channel 6. He and Rod Luck started Florida Sports Today, a feature where they traveled all around Central Florida on the weekend to shoot and report on as many local events as possible.
37. Henry Maldonado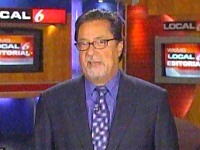 Of those on the Golden 50 list, Henry Maldonado has been in Central Florida the shortest amount of time. Yet, he made a very big impact at Channel 6 and on the local TV scene. He took the third-rated station in the market, rebranded it "Local 6" and put an emphasis on local programming — like televising the parade for the Apopka Little League team and having local residents recite the Pledge of Allegiance after the 9-11 attacks. He also resurrected the tradition of editorials by general managers, and he isn't afraid give his opinion. His noon and 11 p.m. newscasts became the top-rated in the town — and it had been years since Channel 6 had two top-rated news shows. Maldonado retired in 2009.
38. Wayne Bennett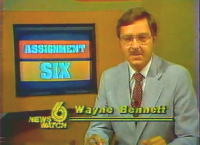 Wayne Bennett was a well-known local anchor in the 1970s and '80s. First, he was at Channel 2 and anchored NewsCenter 2. He then went to Channel 6, anchoring the 11 p.m. news and later the 6 p.m. show when Ben Aycrigg was pulled off the desk and made special projects director. When Channel 6 decided to promote Steve Wolford to main anchor, Bennett remained for a couple of years as the station's "Money Specialist."
TV Trivia: Bennett was still anchoring at WTVM-Channel 9 in Columbus, Ga., until his retirement in 2009.
39. Steve Rondinaro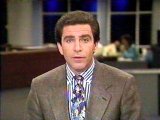 He came from Miami and brought some big-city polish with him. Steve Rodinaro arrived in the mid-1980s to anchor WESH's evening newscasts. A self-described space buff, he loved to broadcast shuttle launches from the space center during his nearly 10 years at the station. He left to move his family to North Carolina to take a slower approach to life. During the first sweeps after his departure, his new life was the subject of a series of reports on WESH. Paradise wasn't all it was made out to be. He returned to Orlando to anchor the 5 p.m. show on WFTV for a short time before returning to the Carolina mountains.
TV Trivia: While covering the arrival of then-first lady Hillary Rodham-Clinton at Kennedy Space Center for WFTV in 1999, Rondinaro was unaware his microphone was one when he said: "There she comes, the old battle-ax. There she is with Chelsea in tow." Moments later he apologized, "I have the highest respect for the first lady."
40. Ed McDonough
Ed McDonough was a 16-year veteran of WESH, starting at the station in 1972. During his tenure, he was a political and general assignment reporter as well as a part-time anchor. He left WESH in 1988 to join a Maitland audio-visual production company.
41. Burdett Bullock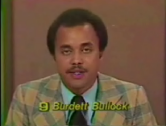 Burdett Bullock was a longtime anchor and reporter for WFTV. He joined Channel 9 in 1977 as a weatherman, then switched to full-time entertainment reporting in 1987 when everyone forecast Orlando to become Hollywood East. He would work at the station for 16 years, leaving the air in December 1992 when he was diagnosed with throat cancer. He died the following March at age 38.
43. Marc Middleton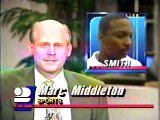 Marc Middleton came to WESH in the mid-1980s to become the station's lead sports anchor — a job he held for 14 years. He became such a familiar face to Central Florida viewers reporting sports that he was switched to news, and he began co-anchoring WESH's morning and noon newscasts in 2001. He left the station in 2007 to start an Internet site,GrowingBolder.com.
43. Rod Luck

If Mike James shook up Orlando TV sports in the 1970s, Rod Luck did the same thing in the 1980s. He replaced Buddy Pittman as sports anchor at Channel 6 — and was about as different from Buddy as you could get. He was loud and brash and didn't really cover sports in a traditional way.
44. Martie Salt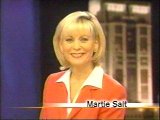 She's baaaaack. When Martie Salt left WFTV in 1994, she did so in part because she didn't think she'd ever get the chance to be Channel 9's main anchor. Turns out, she just needed to wait another nine years. Salt started out in the early 1980s as a reporter at WESH, then joined Channel 9 as a GA. A year later, in 1982, Carole Nelson left WFTV and Salt replaced her as anchor of the station's noon and 5:30 p.m. newscasts. With Marla Weech firmly in place on the anchor desk, Salt left WFTV in '94 and went to Tampa to work for Bob Jordan at new ABC affiliate WFTS. Jordan returned to WFTV in 2002 and brought Salt back to replace Weech in April 2003.
45. Ken Brown
Ken was cited by several folks as one of Orlando's "old-time" sports anchors at Channel 2. But he did more than sports. He was with WESH for 30 years and held several jobs, including news director. He was running the news department when WESH became the first station in Central Florida to start using ENG minicams in the mid 1970s.
46. Glenn Richards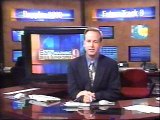 It's hard to replace a legend, but that's what Glenn Richards had to do when he was named to take over the forecasting duties from Danny Treanor as the main weather anchor on WFTV's newscasts. A meteorologist, Richards arrived at Channel 9 in 1993 and would spend 10 years at the station before being bounced during a makeover involving three-quarters of the Channel 9 anchor team. He landed on his feet as the chief met at WOFL-Fox 35 in 2003.
47. Tom Terry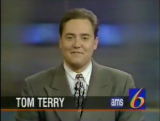 Tom Terry grew up watching the weather broadcasters in Oklahoma and decided at a young age that he wanted to be one of them. In Central Florida, he's more likely to track a hurricane than a ferocious midwest tornado, but you can tell he would be just as excited. Terry started out in Central Florida in 1996 as the morning meteorologist on Channel 6. After several years, he switched to Channel 9, again working the morning shift. When news director Bob Jordan decided the Eyewitness News anchor team needed a makeover, he bumped Terry up to chief meteorologist in January 2003. His down-home charm and weather knowledge have made him the perfect mix of Danny Treanor and Dave Marsh. He went on to earn his stripes during the 2004 summer of hurricanes.
48. Todd Ulrich
Carrying on the tradition of the consumer reporter at WFTV is Todd Ulrich. He's been a reporter and part-time anchor at Channel 9 for 20 years, but he is still perhaps best known for his Action 9 consumer reports. He's won numerous awards for his stories.
49. Pete Forgione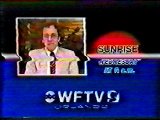 Pete Forgione was another golden oldie for Orlando TV. He started out as a live booth announcer at WDBO-Channel 6 in 1962 and went on to become "Mister Music" on Romper Room with Miss Nancy. He also did the weather on the 11 p.m. newscast. He later switched to Channel 9 to host the afternoon "Money Movie" then the morning "Dialing for Dollars" movie. His TV resume also includes co-anchoring Sunrise Jubilee on Channel 9 with Bill Berry — another O-Town TV pioneer.
TV Trivia: While on active duty with the Air Force, Pete worked at both WHOO and WLOF radio as the original Peter Jay before moving over to TV side after his discharge.
50. Jo Ann Bauer

In conservative Central Florida, JoAnn Bauer was an unusual choice for a solo anchor to start a newscast. A woman, and not a man? Orlando had indeed come a long way from when Carole Nelson broke the anchor desk barrier for women in 1977. WOFL made Bauer its first full-time news anchor when Channel 35 decided to launch a nightly 10 p.m. newscast on March 1, 1998. She stayed with the station for three years — eventually getting Brad Stephens as her co-anchor when the newscast expanded to an hour. She left WOFL to head to Baltimore's WMAR.
Honorable Mentions:
Barbara West, longtime anchor and reporter for WFTV-Channel 9
Glenn Rinker, anchor during the 1980s and early '90s for Channel 6
Pamela Brady, former longtime chief meteorologist at Channel 6
Paul Kennedy, with Orlando's Sunshine Network since it started