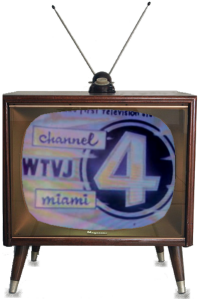 In this list of Florida's first 25 television stations, you'll likely notice some familiar call letters as well as some you may have never seen before.
Those lesser-known TV stations are Florida's early UHF stations, such as Fort Lauderdale's WITV-Ch. 17, Miami's WGBS-Ch. 23, Pensacola's WPFA-Channel 15  and Jacksonville's WJHP-Ch. 36 (all of which predated Orlando's first TV station, WDBO-Ch. 6).
Despite high hopes and a market ripe for television programming, these stations suffered the same fate as many other early UHF stations that competed with VHF stations: they ceased operations after a brief period. UHF stations had a very hard time getting viewers because early TV sets didn't even have UHF tuners — they had to be bought separately. Plus, those early UHF signals didn't reach as far as VHF signals and were also very difficult to tune-in, even with those add-on UHF receivers. All six of the state's first UHF stations eventually went off the air.
The most successful of the early UHF stations was WSUN-TV Channel 38 in St. Petersburg, which managed to hang on for 17 years before fading to black in 1970. Read on for the list of Florida's first 25 stations.
Florida's First 25 Television Stations
---
1949

 
WTVJ, Channel 4


Miami
Sign-on: March 21, 1949.
Original Networks: CBS, NBC, ABC, DuMont.
Info: WTVJ-6, NBC (a NBC O&O). It was the first TV station in Florida and the just the 16th in the country. It went on to become a longtime CBS affiliate, but in its early years it carried shows from all the networks — CBS, NBC, ABC and DuMont.  In 1987, the station was sold to NBC — which later prompted a three-way affiliation swap in the Miami market (WTVJ-Ch. 4 switched from CBS to NBC, WCIX-Ch. 6 switched from Fox to CBS and WSVN-Ch. 7 switched from NBC to Fox). Then, in another move prompted by a deal between CBS and NBC involving stations elsewhere, WTVJ swapped channel positions with WCIX — WTVJ became WTVJ-Ch. 6 and WCIX became WFOR-Ch. 4. In 2008, NBC reached a deal to sell WTVJ to Post-Newsweek Co., owners on WPLG-Ch. 10 in Miami. Due to objections by the community and a downturn in the economy, the deal was called off.
WMBR-TV, Channel 4




Jacksonville
Sign-on: Sept. 15, 1949.
Original Networks: CBS, ABC.
Info: Now known as WJXT.  Glenn Marshall, who owned WMBR, a Jacksonville radio station, decided to launch Jacksonville's first TV station, WMBR TV-4. It was the only TV station in the southeast between Greensboro, N.C., and Miami.  WMBR TV and Radio were bought by the Washington Post Co. in 1953. After the radio station was sold, WMBR-TV became WJXT. It became part of three Post-Newsweek stations in Florida (The others  were WKMG-Ch. 6 in Orlando and WPLG-Ch. 10 in Miami). After more than 50 years as a CBS affiliate, the station balked at the network's terms during affiliation renewal talks and surprisingly opted to become an independent on July 15, 2002. In January 2009, it became the first station in the Jacksonville market to begin broadcasting local news in high definition. On Jan. 1, 1950, WMBR-TV televised the Gator Bowl game for the first time. Only locals saw Clemson's 23-23 win over Missouri because there was no network relay connection for Channel 4 to share the game.
---
1953
WFTL-TV, Channel 23


Fort Lauderdale
Sign-on: May 5 1953.
Original Networks: NBC, DuMont.
Info: WFTL-TV was a ground-breaking TV station. As reported in Sept. 16, 1952 issue of the Fort Lauderdale News, "The station, among the first 10 in the nation authorized to begin operations since the [FCC] TV freeze ended last year and the first utilizing ultra high frequency in the South, will be constructed by the Gore Publishing Co." Gore also owned the Fort Lauderdale News and used the newspaper to promote the station as well as explain how to receive its UHF signal on existing television sets. The station broadcast  from a 48-foot UHF antenna on top of a 240-foot tower located at 1785 SE 15th Street. (Interestingly, the day the station went on the air on May 5, 1953, the Fort Lauderdale News ran a front page story about a man from Tavares in Lake County — 210 miles from Fort Lauderdale — saying, "We received your station Sunday from 9 until 11 p.m. and the reception was very good, especially when you put on the call letters.")  It took until July 1, 1953 for WFTL-TV to connect to the network coaxial cable and begin broadcasting NBC shows live. (It became one of 140 stations in 93 cities co

nnected to the network cable at that time.) Also in July, the station launched an ambitious program called "The World Today," a 45-minute newscast that aired Monday-Friday that invited viewers "to experience the new excitement in TV news coverage. Never before has TV taken you right into the city room to show you how news is gathered. WFTL-TV is the first to do it!" On Nov. 18, 1954, Gore Publishing announced the sale of the station to Miami Beach-based Storer Broadcasting. Storer already owned five other TV stations, but it also wanted one in its hometown. It planned to change the call letters to WGBS-TV (which it did on Dec. 24), move the station to Miami (which it did in July 1956) and increase its power from 20,000 watts to 276,000 watts on a new 1,000-foot tower.  It offered Miami viewers the full NBC schedule of shows that had been split on the old WFTL-TV  and other Miami stations. After WGBS-TV lost its NBC affiliation to new Miami VHF station WCKT-Ch. 7 in 1956, the station became an independent before signing off at 11:45 p.m. on Saturday, April 13, 1957. WPST Channel 10, which was to become Miami's ABC affiliate in August 1957, purchased the land, tower and studio facilities of WGBS-TV from Storer. Present day Miami Univision station WLTV broadcasts on Channel 23, which was revived on Nov. 14, 1967, as WAJA.
WSUN-TV, Channel 38




St. Petersburg
Sign-on: May 31, 1953.
Original Network: ABC.
Info: Went dark air in 1970. Was owned by the City of St. Petersburg and broadcast from the St. Pete pier. It was Tampa Bay's first TV station — and originally carried programs from all the networks. After WFLA-Ch. 8 (NBC) and WTVT-Ch. 13 (CBS) signed on and took network affiliations, WSUN was left with ABC — an affiliation it kept until WLCY-Ch. 10 signed on in 1965. WSUN continued on as an independent until finally signing off in February 1970. Read here about the station's first day on the air.
WIRK-TV, Channel 21




West Palm Beach

Sign-on: Sept. 13, 1953
Original Network: ABC.
Info: WIRK-TV was the first television station in West Palm Beach. Records indicate the station may have started broadcasting a test pattern on Aug. 31, 1953, but regular programming did not begin until Sunday, Sept. 13, 1953. (And regular programming meant having shows from 5:30 to 10:30 p.m.) The station had a studio and a transmitter on the 11th floor of the Harvey Building in downtown West Palm Beach. Bob Ray was the WIRK news anchor and news director, Rome Hartman was the WIRK program director and sports director, and Bill Stokes was the weatherman. WIRK carried a few ABC programs, first by Kinescope recording and later by cable. When WEAT-Channel 12 went on the air, ABC affiliated with them — leaving WIRK with local programming, old movies, etc. Like many early UHF stations, WIRK-TV didn't have a long history. It went dark on March 1, 1956. Click here for a Palm Beach Post story about WIRK-TV's start.
WPFA, Channel 15




Pensacola
Sign-on: Oct. 16, 1953.
Original Network: DuMont.
Info: One of those short-lived, struggling UHF stations of the early television era. The station signed on in October 1953 as Pensacola's first TV station, but that ended a few months later when VHF station WEAR-Channel 3 debuted. (It also had competition from Mobile's WALA-Channel 10, which started on Jan. 14, 1953, and even New Orleans' WDSU-Channel 6, which first broadcast on Dec. 18, 1948.) Again, because many TVs at the time didn't have UHF tuners, WPFA found itself at a huge disadvantage. A story in the May 15, 1955, issue of the Pensacola News Journal chronicled the station's struggles. General manager George Blanford helped open the station in October 1953, then returned in December 1954 to reopen it with a two-hour-a-day broadcast schedule. It increased its schedule to three hours a day in February 1955, four hours a day in March, five in April, and announced plans for an eight-hour daily schedule in May.  In early December, the station asked the FCC  to move a proposed channel 4 from New Orleans to Beaumont-Port Arthur, Texas, to lessen competition. That request failed, and the station began cutting back on its broadcast schedule. Some reports say the station went dark on Dec. 18, 1955, but its TV listings were still being carried by the Pensacola News Journal in early January before disappearing.  The current Channel 15 in the Pensacola market is WMPI, the NBC affiliate licensed to Mobile.
WITV, Channel 17


Fort Lauderdale
Sign-on: Dec. 1, 1953.
Original Networks: ABC, DuMont.
Info: Though based in Fort Lauderdale and going on the air after WFTL-TV, WITV was considered Miami's second TV station. Unlike WFTL-TV, WITV's signal reached all the way into into Miami — and beyond. That came thanks to its 750-foot tower in Hollywood and a "peanut directional antenna" that focused its signal in a north-to-south pattern that let it reach from Palm Beach to Key Largo, but not nearly as far east or west. "That will be a little hard on the Seminoles in the Everglades and the fish in the Atlantic, but there aren't many televisions out there, " station general manager Robert Standart explained to The Miami News on Aug. 10, 1953. The station started broadcasting test patterns on Nov. 26, 1953 and began regular service at 4:30 p.m. on Dec. 1. Included in opening broadcast was a re-enactment of the first Air Mail flight into Florida in 1928, with the plane this time delivering a letter from the FCC granting WITV permission to broadcast.  Bill Byers was WITV's anchorman, and Maxine Barrat did weather — she was Florida TV's first "weather girl." The station proved popular initially before Miami VHF stations WCKT-Channel 7 and WPST-Channel 10 went on the air, with the latter taking WITV's ABC affiliation with it in August 1957. WITV then became an independent, broadcasting only a few hours a day in the evening. WITV owner Gerico Investment Co., after unsuccessfully blocking WKCT and WPST, asked the FCC to give it the license to new Miami VHF station Channel 6. The FCC said WITV would have to compete with all other interested parties for Channel 6. Finally, on May 11, 1958, WITV signed off for good. As the Miami News noted in a story that served as the station's obituary, "As the second station to hit the airwaves here, WITV enjoyed widespread popularity while it was affiliated with the ABC network. WITV was a UHF (ultra high frequency) station and thousands of Miamians either converted their sets to receive the station's transmission or bought new sets. When licenses were granted for Channels 7 and 10, both VHF (very high frequency) stations like Channel 4, it left WITV without a major network."
WJDM-TV, Channel 7




Panama City
Sign-on: Dec. 6, 1953.
Original Network: ABC, plus NBC and CBS.
Info: When the station went on the air at 5:30 p.m. on Dec 6, 1953, general manager George Blackwell said Panama City was probably the smallest city in the national to have a commercial TV station.  It broadcast mostly from 4:30 p.m. into the evening. The station was originally owned by J.D. Manly. According to Wikipedia, Mel Wheeler purchased the station in 1957, and in 1960, James Harrison Gray, the founder of Gray Communications, bought the station and changed the call letters to the current WJHG-TV, after his initials. After other stations in nearby Dothan, Ala., and Panama City signed on and took CBS and NBC affiliate with them, WJHG became an full-time ABC affiliate. In 1982, WMBB and WJHG switched networks with Channel 7 getting NBC once again.
WJHP-TV, Channel 36




Jacksonville
Sign-on: December 13, 1953.
Original Networks: NBC, ABC.
Info: As early as 1955, WJHP-TV knew it was in trouble. It petitioned the FCC to allow it to move from UHF channel 36 to VHF channel 7, which had been reserved for a non-commercial station for Jacksonville. It told the FCC that it could not continue to operate at a loss on the UHF channel – especially with competitor WMBR-Channel 4 and another VHF station getting ready to broadcast. The FCC denied the request in August 1957.  WJHP-TV went dark on Oct. 25, 1957 — just days after Jacksonville's third TV station, WFGA-Channel 12, went on the air and took the NBC affiliation with it. WJPH was owned by the Jacksonville Journal Co., owned by the famed Perry family and John H. Perry Jr. His family amassed a wide collection of newspapers, TV and radio stations across the state — including WESH-Ch. 2 in Daytona Beach.
---
1954
WEAR-TV, Channel 3




Pensacola
Sign-on: Jan. 13, 1954.
Original Network: CBS.
Info: According to Wikipedia.org, WEAR was primarily a CBS affiliate when it signed on, sharing ABC with WALA. Once WKRG-TV began in 1955, WEAR took over sole ownership of the ABC affiliation. WEAR's market overlaps into Alabama.
WINK-TV, Channel 11




Fort Myers
Sign-on: March 1, 1954.
Original Network: ABC, NBC
Info: Was the first TV station on Florida's West Coast and was the only commercial station in Southwest Florida until 1968. (It's still the only legacy VHF station in the market.) When WINK-TV went on the air, it was an ABC affiliate, with the ability to show some NBC shows. This despite its WINK radio counterpart being a CBS affiliate. (And most likley due to the powerful WTVJ-Channel 4 signal reaching into Fort Myers with CBS programming.) But by March 1955, WINK-TV did start to air some CBS shows even though it was still a primary ABC affiliate — and would keep carrying some ABC shows until WEVU-TV Channel 26 went on the air in 1974. When WINK-TV started broadcasting in 1954, the network coaxial cable did not yet extend to Fort Myers — so there were no live network shows to be aired. Instead, the station had a mix of locals shows and filmed programs from ABC and NBC. It initially operated only from 5 p.m. to 11 p.m. or midnight, depending on programming. One of the first employees of the station was young Vernon Lundquist — but this was not CBS Sports announcer Vern Lundquist. WINK-TV's Lundquist died at age 77 in 2003.
WDBO-TV, Channel 6


Orlando
Sign-on: July 1, 1954.
Original Networks: CBS, ABC, NBC, DuMont.
Info: Now known as WKMG-6, CBS. Orlando's first TV station was originally owned by Orlando Broadcasting Co., which also owned radio stations WDBO-AM (580) and WDBO-FM (92.3). Changed call sign to WCPX in 1982 when deal was on table to sell station to Columbia Pictures. The deal fell through, but the station kept WCPX. In 1998, the station was acquired by Post-Newsweek, and renamed WKMG in honor of Katherine M. Graham. (P-N sister station WPLG in Miami is named after Graham's husband Phillip.) As the first station in Central Florida, it was primarily a CBS affiliate but also aired shows from DuMont (until the network folded in 1955), from NBC (until WESH signed on in 1957), from ABC (until WLOF signed on in 1958).  Interesting that in its early years, when it had all the networks to choose from, it aired ABC's early evening news with John Daly over CBS' evening newscast with Douglas Edwards.
WJNO-TV, Channel 5




West Palm Beach
Sign-on: Aug. 22, 1954.
Original Networks: NBC.
Info: Switched call letters to WPTV on Nov. 6, 1956, after John H. Phipps bought the station. According to the Palm Beach Post, "Channel 5 went on the air as WJNO-TV, with some partial ownership of radio station WJNO. Studios in Palm Beach in the old "slat-house" on Coconut Row. Later ownership change to Scripps-Howard and changed to WPTV."
---
1955
WEAT-TV, Channel 12




West Palm Beach
Sign-on: Jan. 1, 1955.
Original Networks: ABC.
Info: Now known as WPEC-12, CBS.  Was owned by RKO Teleradio Pictures, and its business address was listed as "Pennsylvania Hotel." Wikipedia reports that in 1973, the WEAT calls were changed to the current WPEC which stood for Photo Electronics Corporation in reference to the station's then-owner.
WCTV, Channel 6




Tallahassee
Sign-on: Sept. 1, 1955.
Original Networks: CBS, ABC, NBC.
Info: Still WCTV-6, CBS. Technically this isn't a Florida TV station. It's city of license is Thomasville, Ga., even though it has always been considered a "Tallahassee" TV station. The backstory: The FCC had designated only one VHF station for Tallahassee, and that was taken by Florida State University for its WFSU-Channel 11. The nearest VHF channel available was Channel 6 in Thomasville.
WFLA-TV, Channel 8




Tampa
Sign-on: Feb. 14, 1955.
Original Network: NBC.
Info:  The station went on the air for the first time so it could broadcast live Tampa's annual Gasparilla Parade. Two weeks later, it launched a full 18-hour broadcast day. It's been affiliated with the Tampa Tribune newspaper since its start. Sister radio stations WFLA-AM and WFLA-FM were also owned by the Tribune. When a change in ownership of the Tribune forced the sale of the radio stations in 1983, WFLA became WXFL. It returned to the WFLA call letters on Jan. 1, 1989.
WTVT, Channel 13




Tampa
Sign-on: April 1, 1955.
Original Network: CBS.
Info: Now WTVT-13, Fox (a Fox O&O). For more on the history of WTVT, visit this great Web site: www.Big13.com
WTHS, Channel 2




Miami
Sign-on: Aug. 12, 1955.
Original Network: Educational independent station
Info: Now known as WPBT 2, PBS. It was Florida's first non-commercial station. Click here to watch video from WTHS.
---
1956
WESH-TV, Channel 2


Daytona Beach
Sign-on: June 11, 1956.
Original Network: Briefly an independent, then NBC.
Info: Station call letters come from its first owner, Wright Esch, who won the TV license but sold it to Perry Publications just before the station went on the air. WESH's original tower in Daytona Beach was only 300 feet high, which was tiny even by 1950s standards. This limited its coverage to Volusia County. As such, it shared the NBC affiliation in Central Florida with WDBO-TV. It finally became the sole NBC affiliate for the Central Florida market on November 5, 1957. On that day, the station activated a new 1,000-foot tower in Orange City. WESH is the only major Orlando network station with original call letters.
WCKT, Channel 7




Miami
Sign-on: July 29, 1956.
Original Network: NBC.
Info: Now known as WSVN-7, the Fox affiliate for South Florida. Was the longtime NBC station in South Florida, until NBC bought then-CBS affiliate WTVJ in 1988 — setting off a three station affiliation swap. That resulted in WSVN ending up with the Fox network. Click here to read about its first day on the air.
---
1957
WPST, Channel 10




Miami
Sign-on: Aug. 2, 1957.
Original Network: ABC.
Info: Now WPLG-10, ABC. This was the second ABC affiliate in the Miami market, after WITV-Channel 17. Because it as a VHF station and had stronger signal than UHF WITV, ABC moved its affiliation from Channel 17 to Channel 10. But WPST had its license stripped by the FCC in November 1961 after it was discovered station owner National Airlines bribed a FCC commissioner to get the broadcast license. National sold the station assets to a group that created a new Channel 10, WLBW. This group later sold the station to Post-Newsweek, which renamed it WPLG in honor of Phillip L. Graham. Click here to read about WPST's studio dedication in 1958.
WFGA-TV, Channel 12




Jacksonville
Sign-on: Sept. 1, 1957.
Original Network: NBC.
Info: Now WTLV-12, NBC. Had switched to being an ABC affiliate, then back to NBC. Now part of Gannett duopoly that owns the NBC and ABC affiliates in Jacksonville. WFGA-TV (which stood for "We're Florida and GeorgiA"), was the first television station in the United States designed for color broadcasting. WFGA was the first station to broadcast live rocket launches from Cape Canaveral, and provided pool coverage for the networks. Here's a story detailing WFGA's history with space launches. WFGA was also instrumental in getting public television going in Jacksonville, donating tower space, money and facilities for station WJCT.
---
1958
WLOF-TV, Channel 9


Orlando
Sign-on: Feb. 1, 1958.
Original Network: ABC.
Info: Now known as WFTV-9, ABC. Changed its call letters to WFTV in 1963. WLOF stood for "We Love Orlando Florida." WFTV was for "Wonderful Florida Television."
WEDU, Channel 3




Tampa
Sign-on: Oct. 17, 1958.
Original Network: NET (National Educational Television).
Info: The station is still on the air today as the Tampa Bay area's primary PBS affiliate. According to the station's Wikipedia entry, "For many years, WEDU has been one of the highest-rated stations in the PBS system. At one point, it was the third most-watched PBS member station in the country."
WUFT, Channel 5




Gainesville
Sign-on: Nov. 10, 1958.
Original Network: NET (National Educational Television).
Info:  WUFT, owned by the University of Florida, first signed on the air as North Central Florida's first television station. It became a PBS affiliate on Oct. 5, 1970.
Information compiled from sources on the Web — including Wikipedia.org — and in print.