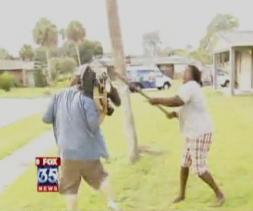 It's the news video everyone is still talking about: An angry grandmother attacks news crews from both WESH-2 and WOFL-Fox 35 with a garden hoe.
The incident happened on Monday when WESH reporter Gail Paschall-Brown and her videographer, along with Fox 35 reporter Holly Bristow and her videographer, visited a home in Cocoa. The news crews were there to follow up on a weekend story about two teenage girls who were found dancing at a strip club. The crews came to the home to seek comment from a relative of one of the girls.
The woman, later identified as a grandmother of one of the girls, takes one look at the television cameras and exclaims, "Don't put that [f'ing] camera in my face!"  Grabbing her hoe, she charges at Fox 35 camera then turns her attention to WESH's camera, swinging the garden tool. She actually strikes the WESH camera, but fortunately the videographer is not injured.
As all of this is going on, Bristow is smartly trying to get out of the way, while Pascal-Brown — got to say, the woman's got guts — tries to reason with the unreasonable, irrate grandma. It's very, very bizarre — and was caught on tape by the two stations.
No word on whether either station will press charges against the woman.
Here's a link to WESH's video of the incident.  Fox 35's video of the attack is below. And here's a link to WOFL's story.