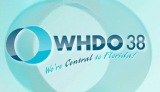 A new local TV station is signing on with a big mission: all local programming in nothing by high definition. That's the goal for WHDO-Channel 38 (digital channel 42).
The plan for the station is to produce a schedule of all local shows and to broadcast them in HD. Some very familiar Central Florida names are associated with the station, according to Central Florida Lifestyle magazine. Among them: former longtime WESH meteorologist Dave Marsh and sportscaster Buddy Pittman. Among those doing shows include well-known local gardening expert Robert Vincent Sims.
While that all sounds great, here's the downside. WHDO is a low-power TV station — meaning the vast majority of Central Florida can't pick up its signal (analog or digital). I'm in east Orlando, and it doesn't show up on my TV.
 Joe Chaplionski, GM for the station, is hoping WHDO will be picked up by local cable carriers to extend its reach. "Folks who would like to view WHDO-TV and are anxious for the kind of programming we'll be giving them, should call their cable or satellite provider and ask them to start carrying our station," Chaplinski told Central Florida Lifestyle. "If they ask for it, the cable companies will deliver."
The station has a Web site — whdotv.com. Here's a demo video that appears on the site.