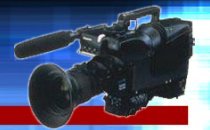 April's ratings are over. The May sweeps have begun. And Orlando TV stations are searching (and researching) for viewers.
First, back to April. WFTV-Channel 9's Eyewitness News was once again the king of the hill in the morning, at noon, in the evening and at night. WESH 2 News was No. 2 most of the time. WKMG-Local 6 and WOFL-Fox 35 battled it out at the bottom in most news time periods.
The Orlando Sentinel reports that in the advertiser-coveted 25-54 age group, WFTV was tops at 11 p.m.  Monday-Friday with 39,400 viewers. WKMG's 26,000 edged out WESH with 25,500, and WOFL was the choice of 14,400. WESH and WKMG swapped positions in the Monday-Sunday tally.
For more on the April ratings, click here.
Meanwhile, a tipster reports that one O-Town station is apparently conducting telephone research, focusing a lot on their morning show competition. In addition to asking about viewer tastes when it comes to news, researchers wanted participants to rate all of the morning talent on Channels 2, 6 and 9. Interesting.