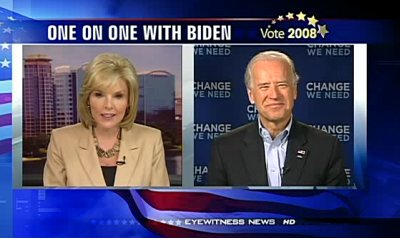 WFTV anchor Barbara West is defending her questioning of Democratic VP candidate Joe Biden.
 "I have a great deal of respect for him. I have a great deal of respect for Sen. Obama," West told Orlando Sentinel TV critic Hal Boedeker. "We are given four minutes of a satellite window for these interviews. Four precious minutes. I got right down to it and, yes, I think I asked him some pointed questions."
Among them was this rather bizarre one, which raised the ire of the Obama campaign:
West: "You may recognize this famous quote. 'From each according to his ability, to each according to his needs.' That's from Karl Marx. How is Senator Obama not being a Marxist if he intends to spread the wealth around?"
Biden's reponse," Are you joking? Is this a joke? Is that a real question?"
Watch the interview for yourself, then vote in our poll on the right.