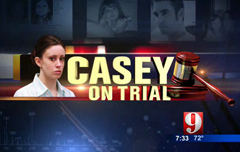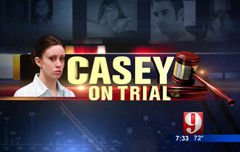 The Orlando TV ratings for the Casey Anthony trial continue to be amazing. And WFTV-Channel 9 News Director Bob Jordan is very pleased with what he's seeing.
Here are some recent tweets from his always entertaining and informative Twitter account:
Saturday 'Casey on Trial' draws a combined (WFTV+WOLF+CFN13) 41 share at 11:00 am. WFTV's 7PM Casey special wins TP. Interest unabated.
4PM Friday: 'Casey on Trial' on WFTV draws a 16-share. News on WESH, a 1-share.
'French Open' on WESH attracts NO MEASURABLE audience (A25-54) against 'Casey on Trial' coverage on WFTV, et al.
WFTV wins 20 of 29 qtr hrs of 'Casey On Trial' coverage Friday. Kudos to our trial team, headed up by EP Amy Coulter.