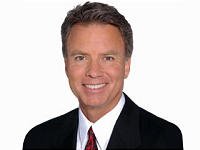 Tom Brokaw, Peter Jennings and Dan Rather were iconic anchors for their networks. But Bob Opsahl has them beat.
Opsahl has been anchoring the news at WFTV-Channel 9 for more than 30 years — even before Rather, Brokaw or Jennings took over the lead roles on their network newscasts. Granted, Opsahl wasn't the main anchor for Eyewitness News when he started at the station in 1978, but he's still going long after those other guys left their respective network desks.
But, as they say, all good things must come to an end. Orlando Sentinel TV Guy Hal Boedeker reports that WFTV is starting to look for Opsahl's replacement.
"Bob Opsahl is going to retire sometime. It would behoove us to be ready," said WFTV News Director Bob Jordan — the man who hired Opsahl years ago. "I know one day I'm going to have to replace Bob Opsahl. I've be happy if he stayed forever, but he has a contract that runs out. He's had a fantastic career. He's an extremely valuable player."
For now, the station is holding auditions for a male weekend anchor — but folks can see the writing on the wall. Fortunately for Opsahl's many viewers, he's probably not going anywhere anytime soon.
"Not next year," Jordan said. "As long as he's going to be here for 2010, aren't goodbyes premature?"