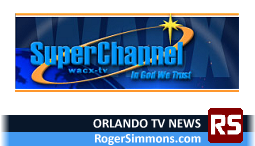 Construction on WACX's Majesty Building, the unfinished high-rise office tower along Interstate 4 in Seminole County, started in February 2001. Does it have a prayer of ever being finished?
SuperChannel 55 President Claud Bowers told the Orlando Sentinel that he expects the tower to be ready for tenants by October 2012. But local building officials call that projection unrealistic unless construction starts speeding up.
The building is being paid for by the donations of viewers of WACX's religious programming. Those viewers and others initially pledged $38 million and put $13 million in the station's bank account — fueling construction during the first two years of the project. Since then, donations have dropped and construction has slowed to a snail's pace.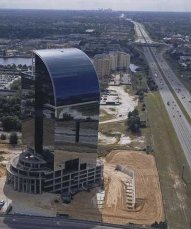 According to the Sentinel: "Standing recently in the shadow of the construction site, with a lone front loader moving dirt, Bowers said that, while progress on Majesty Building has been slow, the finished tower will have a much stronger financial base than some of the office buildings that went up in Orlando and elsewhere just prior to the real-estate market's collapse in 2007.
"Bowers said the partially built office tower stands as a miracle and will be a 'pulpit to the world' when it's complete, with satellite-TV studios, banquet facilities, offices and retail space. He said little more remains to be done — other than the parking garage, site work and interior buildouts. He added that he plans to lease or sell office space in the structure and use those proceeds to fund an endowment for expanding the SuperChannel's religious ministries."