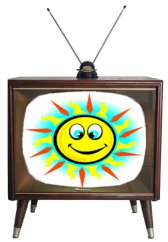 After a nice summer break away from TV news, it's time to catch up. And, wow, there has been a lot going on ….
WFTV-Channel 9: Some of the most newsworthy changes have come from an unexpected place: the usually rock-steady Eyewitness News juggernaut. The big shocker: longtime anchor Barbara West is being taken off the 5:30 p.m. news, making way for rising star Vanessa Welch. GM  Shawn Bartelt told Sentinel TV Guy Hal Boedeker the station is making the 5:30 change to provide some flow its new  6:30 p.m. news on WRDQ-TV 27. "I have the utmost respect for Barbara West," Bartelt said. "This is no reflection on Barbara. I have to get more faces into those 90 minutes" from 5 to 6:30 p.m. West has been at WFTV since 1986 and will continue to anchor at noon and report on the health beat. … Another longtime WFTV anchor is also getting her air time scaled back, too. Daybreak anchor Vanessa Echols will be replaced by newcomer Bianca Castro from 7-9 a.m. on the Eyewitness News This Morning show on WRDQ. "We felt she needed a break," Bartelt said of Echols. … And even more changes at WFTV: Main sports anchor Phil Burton is being shuffled out the door to make way for Christian Bruey, 26, who does play by play for the Daytona Cubs. Bruey starts in September. Burton will hang around through football season. … Morning meteorologist Matt Makens is departing WFTV to accept a weather position at Denver's KMGH-ABC 7. … Speaking of Channel 9's new  6:30 p.m. news, with Welch and newcomer Josh Benson, it will debut on Labor Day. … Finally (whew!), WFTV announced it will replace Oprah at 4 p.m. with Dr. Oz, starting in 2011. So much for theories that WFTV was going to launch a 4 p.m. newscast.
WOFL-Fox 35: After eight years, General Manager Stan Knott announced plans to leave the Fox O&O. While he's been on board, the station has greatly expanded its news footprint in the mornings, evenings and weekends. No word on a replacement yet. More here.  … Dr. Phil will be joining the Fox 35 family in 2011.
WKMG-Local 6: Well, when we last checked, WKMG was in the process of a major house cleaning. Gone were anchor Jacqueline London, reporter Donald Forbes and morning weather guy Eric Wilson. The changes kept on coming. Reporter Jessica D'Onofrio has left, stepping up to ABC O&O WLS-7 in her hometown of Chicago. The Chicago Sun-Times says she starts Aug. 30 will be covering breaking news in the mornings. So, what about all those openings at WKMG? Julie Broughton, formerly of Central Florida News 13, has been brought in temporarily to help anchor on the weekends. More new faces at the station: Shaun Chaiyabhat, from Memphis, is a GA; Quinn Schuler, from Tuscon, Ariz.,  is a GA; and Cortney Hall, from Champaign, Ill. is a morning reporter. … We mentioned earlier, WKMG is going to let Dr. Phil — which replaced its 5 p.m. news — go to WOFL in 2011. Will WKMG get back into the early evening news game? GM SkipValet isn't saying.
WESH 2 News: Sunrise anchor Jason Guy became a daddy earlier this month. He and his wife welcome daughter Quinn Katherine Guy. … And congrats to Todd Grasley, who had been heading up WESH's High School Playbook website. He's off to Panama City for a new weekend sports anchor gig.
Central Florida News 13: Well, I was surprised. Hal Boedeker reported on News 13's ratings and how they fare against the other stations in town. I didn't think 13 was much of a player, but the local cable news station regularly beats some of its broadcast competitors in several news time slots. Who knew "Weather on the 1's" could be so popular? … Anchor Jackie Brockington, missing for three months, returned to the air. Where was she? On medical leave. "Nothing serious — reconstructive foot surgery," Brockington told Boedeker.