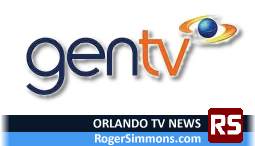 Remember back in April, when WFTV-Channel 9 announced that it would turn over its 9.3 digital channel to a new Hispanic station, WAWA-LP 47?
Here's how the Orlando Sentinel reported the news: "WAWA, an affiliate of the GenTV network, will have a spot on WFTV's digital subchannel 9.3 and will be on the air no later than June. WAWA will offer a half-hour newscast 9:30 p.m. and will hire at least seven people to start, General Manager Laura Santos said. The station also will offer news updates through the day."
Well, here we are in September, and there's still only a test pattern on channel 9.3. So, other than playing with the test pattern, has anything been going on with this new station?
A quick check of the Internet found a WFTV.com page for Katie Coronado. "Today, Katie is part of the WAWA-TV 47 news team where she is executive director of news, as well as anchor. The station is the Central Florida affiliate of GenTV, the newly created U.S. network of Caracol Television, one of the most well-known networks in the Spanish-speaking world. She also reports for WFTV Channel 9, Central Florida's ABC affiliate, and the top-rated news station in the market."
So, the station has a GM and a news director. Will it get a signal on WFTV's channel 9.3? Just askin'.