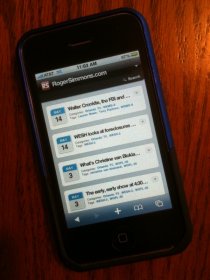 You're busy. You're on the go. We know. And if you have an iPhone, Android, BlackBerry9500 or BlackBerry9530, you're probably using it to look at the Web more. So, next time you are surfing on your iPhone, Android or BlackBerry, visit RogerSimmons.com. You'll find a new iPhone/Android/BlackBerry-optimized site — fewer graphics, easier to read text, and the ability to add comments to stories right from your phone. And you can also add a RogerSimmons.com bookmark icon to your screen, so coming back to your favorite Orlando TV News site will be that much easier.
Whenever you want to look at the regular RogerSimmons.com website on your iPhone, scroll to the bottom of the page and click "off" for mobile theme.
For the rest of you mobile users out there … we're working on solutions for you, too.